Father Michael Holman, S.J.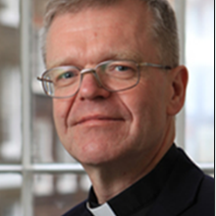 Michael Holman, S.J., is the current superior of the Jesuit community in London. He also serves on the parish team of Farm Street Church and is Catholic Chaplain to Imperial College of Science, Medicine and Technology, London.
A Jesuit since 1974, he has previously served as headmaster of the Jesuit secondary school in Wimbledon (UK) from 1995 to 2004, and as the Jesuit provincial of the United Kingdom, from 2005 to 2011. He was then principal of Heythrop College, the former Jesuit college of the University of London. While completing his final year of training in 1995, he also worked for six months as a prison and hospital chaplain in Guyana.
Father Holman has studied at Campion Hall, Oxford; Heythrop College; Weston School of Theology, Cambridge, Massachusetts; and Fordham University's Graduate School of Education, where he received an MSE in 1989. He holds degrees in Philosophy, Theology, and Education Administration.