FCLC Honors Program Benefits of Studying in NYC
Fordham Lincoln Center Honors is Freedom to explore NYC.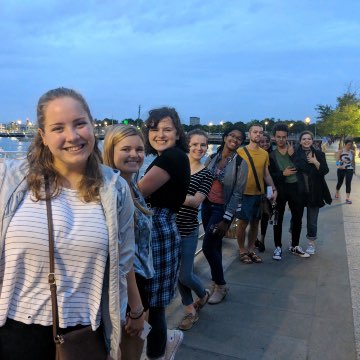 Class trips, dinners, and outings are great, but perhaps even better is the honors museum pass that gets you into the best NYC museums (as well as museums around the country) for free!
As an honors student, your intellectual, moral, and creative development will not be confined to the classroom, library, and lab. The city is your campus. In the world capital of commerce and culture, you will explore and wrestle with the great questions of life with an immediacy that is unrivaled. You will take advantage of unique opportunities for research and discovery, engaging creatively in the life of the city. A recent honors class, for example, did more than visit lower Manhattan. With guidance from their professor, Roger Panetta, PhD, students in the Trends in New York City class completed a semester-long research project on the South Street Seaport. They produced a fully interactive website that covers the port's nearly 400-year history.
Katie Ott, Class of 2017
During my freshman and sophomore year, I became secretary of the Resident Hall Association. With this student government organization, I plan events for other students, such as an Easter Egg Hunt, outings to Broadway shows such as If/Then, Cabaret, and Big Fish
During my freshman year, I sang with the St. Paul Singers for CBS Christmas Special at St. Paul's (right next door to Fordham) with Regis Philbin and the Henson puppeteers (creators of the Muppets)
I am a member of the Pre-Law Society. In this club, we have visits from law school admission deans, meet with advisers, and prepare for the LSAT.
I am a member of the University Choir and Women's Choir. We have sung for "Good Morning America" and are currently planning a tour in Ireland over spring break.
I have been working in Fordham's costume shop. We go shopping in the Fashion District and are able to study with Broadway designers.
Margaret Fisher, Class of 2017
I am a member of the Lincoln Center Society, which involves giving tours to prospective students and their families and serving as an ambassador for Fordham in the community. Several other members of the honors program, including Carolyn Guerrero and Rachel Schwartz, are members as well!
This year, I became an editor of the comparative literature department's student-run undergraduate journal: Bricolage. Adam Fales, Honors Class of 2017, is an editor as well.
I am also involved in the Language Exchange Program here at Fordham Lincoln Center, which pairs English-speaking students with international students, facilitating bilingual exchange of language skills and cultural knowledge.
Last year, I was a member of the Fordham Cheerleading Team, which is based at the Rose Hill campus. It is definitely possible to be involved in activities at both campuses, and I know several other girls from the Lincoln Center campus who are cheerleaders this year.
Also, I love running and the gym. Fordham Lincoln Center offers students discounted membership to the YMCA; it's a great deal!