Rose Hill Honors Program Community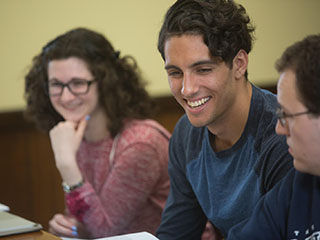 Students often say that the Honors Program is like a family. The intellectual relationships that develop around our seminar table are just one part of the close-knit community that grows among students and faculty members.
The Honors community includes students, faculty, and staff from different regions and cultural backgrounds, of different religions, orientations, and philosophical outlooks. What unites us is our embrace of differences and our interest in the concerns of diversity and justice.
The Spirit of Mentorship
Whether a bond is formed between a faculty member and a student or between a senior and a first-year, the spirit of mentorship permeates the Honors Program. Students find guidance and encouragement in the support of their professors and peers.
Beyond the Books
Honors students' intellectual, moral, social, and creative development is not confined to the classroom, library, or lab. Special activities and events planned throughout the year bring together and celebrate the Honors community. Many of these activities make use of New York City's rich cultural expanse, while others take place in and around Alpha House—right in our own backyard!