Rose Hill Honors Community Connections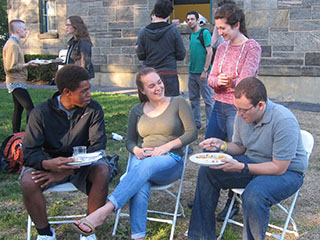 Honors students are part of multiple communities: Honors itself, of course, but also Fordham College at Rose Hill, our local Bronx neighborhoods, and the greater New York City region.
As a community of scholars for justice, we actively challenge our students to think critically about their role in these various communities. There are ample opportunities for Honors students to be active participants in the local community, giving back through volunteer service or internships with neighborhood organizations like POTS, Rosedale Achievement Center, or Jumpstart.
Exploration of the historical and cultural influences in our local communities is encouraged through the first-year one-credit seminar and the Bronx Exploration committee on the Honors Student Activities Council. Right next door to the Rose Hill campus is the famous New York Botanical Garden, which Fordham students can visit for free. Alongside the garden is the Bronx Zoo, where Fordham students receive discounted admission.
Outside of our home borough of the Bronx, the four other New York City boroughs boast outstanding opportunities. An integral part of the Honors curriculum is the opportunity to experience cultural venues and events throughout the city. Some outings are required components of Honors coursework; others are optional, planned through the Student Activities Council or the program.
Recent outings include trips to:
The East Bronx for a food tour
A Midsummer Night's Dream at the Pearl Theatre Company
The Tempest at La MaMa