FCRH Honors Program First-Year Experience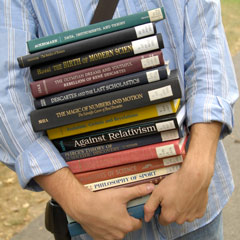 The first year of the Honors Program offers an integrated study of foundational texts and topics in diverse Western intellectual and cultural traditions, including theology and classics, literature, philosophy, history, art, and music. The first-year curriculum also includes a two-semester interdisciplinary STEM sequence and a one-credit seminar focused on our home borough called Bronx Exploration: History, Economy, Culture.
All course sections in the first-year curriculum share a common syllabus, ensuring the creation of a common intellectual base and a close interpersonal Honors student community.
A yearlong interdisciplinary study of quantitative reasoning and science; introduction to important methods, theories, and modes of thinking in the participating fields.

Interdisciplinary STEM I

Mathematics
Computer Science
Physics

Interdisciplinary STEM II

Primary texts from Western Asia, Greece, and Rome, such as the works of Homer and Virgil, the Hebrew Bible, the New Testament.

Primary texts that have been foundational for the development of English literature, by influential authors such as Chaucer, Shakespeare, Milton, and Austen.

Primary texts on core philosophical issues in antiquity and beyond, both Western and Asian.

Classic and universal themes in both the West and globally, including but not limited to religion, slavery, gender, nation, identity, and polity in the pre-modern world.

Introduction to the disciplines of art history or music history.

One credit, pass/fail
The goal of this course is to introduce students to the borough in which they will spend their college years. The course combines readings about and discussions of the history, economy, and culture of the Bronx with several field trips to important Bronx historical and cultural sites. The course may also include opportunities for community engagement. Note that this course does not affect a full course load.