FCRH Honors Program Senior Year Experience
Honors Curriculum Capstone: The Senior Thesis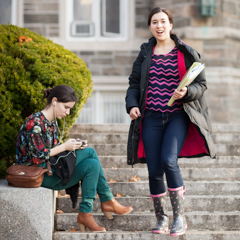 The capstone of the Honors curriculum is the senior thesis, an extended research project carried out under the guidance of a faculty member in the student's chosen major field. The thesis allows students to apply the advanced writing and analytical skills they have honed throughout their Honors experience to topics they are most passionate about. Graduate and professional schools, as well as prospective employers, recognize the thesis as a clear indication of a student's ability to do independent work at an advanced level.
Senior Thesis Seminar
Throughout their senior year, students meet over dinner with their classmates and the director of the program in the Honors Senior Thesis Seminar.
The first semester of the Senior Thesis Seminar is focused on developing an intellectual portfolio of a student's cumulative career in Honors and at FCRH. In the second semester, students learn to create three-minute TED-talk-style presentations about their theses. Students then present their three-minute thesis talks to faculty, family, and friends on the day of Encaenia, Fordham College at Rose Hill's Honors graduation ceremony.
"Fish Farm Manual and Pond Design for the Community of Kaloaki, Uganda" by Linwood Anderson '18, Engineering Physics
"Poet Classification Using Support Vector Machines and Text Mining Techniques" by Catherine Gallagher '17, Computer Science
"Targeting Ovarian and Cervical Tumor Cells with Tunable Nanoscale Assemblies" by Sara K. Hurley '18, Biological Sciences
"Minimal Surfaces and Harmonic Mappings: Gauss Curvature, Distortion, and the Shear Construction" by Emily Dinan '14, Mathematics

"Ideological Warfare: Kennedy, Nixon, and Divergent Strategies for Combating Communism, 1946–1947" by Melanie Sheehan '17, History and American Studies
"Posts and Protests: New Media Networks and Counterpublics" by Matthew Schlesinger '16, Philosophy
"Dios Camina Conmigo: The Growth of Feminist Theology in El Salvador and Its Implications for Christian Life" by Lauren Ross '15, Theology
"Griselda and the Good Woman: Chaucer's Secular Saints" by Abigail Kayser '15, Medieval Studies

"Insurance Fraud: An Economic History of the Health Insurance Industry and Its Shortcomings in Providing Care During New York City's AIDS Epidemic" by Zach Keirn '18, Economics
"Designing Urban Agriculture for the Bronx" by Reyna Wang '18, Environmental Studies
"The Legacy of Apartheid Spatial Structures: Limited Economic Mobility" by Patrick Nally '17, Economics
"A New Home in the City of Good Neighbors: Economic Impact and Outcomes for Refugees in Buffalo, NY" by Chiara Moslow '17, International Political Economy

"Pickled Limes: A Collection of Stories" by Melissa Mooney '18, Creative Writing
"Theme and Variations on Der Voghormia, An Armenian Prayer Song by Gomidas" by Katherine Sadaniantz '17, Music
"The Lighthouse Suite: Exploring the Artistic Aims of Virginia Woolf's To the Lighthouse Through Music" by Rosemary Derocher '16, Music and English
"Logo. Pattern. Space. Brand Development by Abby Wilson" by Abby Wilson '15, Visual Arts