Rose Hill Honors Program Overview
A Community of Scholars for Justice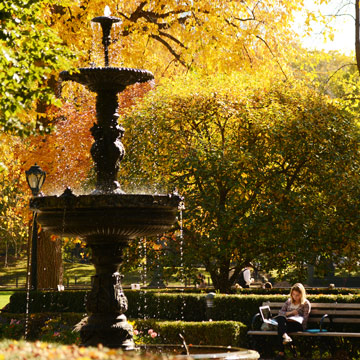 The mission of the Fordham College at Rose Hill Honors Program is to produce and promote a community of scholars for justice. We achieve our mission through a curriculum that in some substantive way focuses on the concerns of diversity and justice in each of its courses, regardless of discipline or subject matter. In addition to academics, Honors students engage in extracurricular events and activities that foster leadership and community engagement. Learn more about the Honors community and unique Honors opportunities.
"The themes we engage within Honors classes stretch into the social, political, and economic climates we find ourselves in today. This focus on the liberal arts has contributed to my personal activism, both at Fordham and beyond."
- Monica Sobrin, Honors Alumna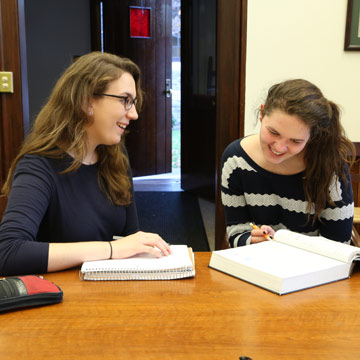 Curriculum
Honors students learn to …
analyze and critically assess materials from the humanities, social sciences, and STEM fields
engage in scholarship through the Research Methods course, scholarship components in each upper-level course, and the senior thesis—an original project in the major field
study and reflect on the concerns of diversity and justice across the curriculum
integrate the perspectives of multiple disciplines through the Interdisciplinary Seminar Series
Honors classes are …
small, seminar-style
designed exclusively for Honors students
reading- and writing-intensive
discussion-driven
The Honors curriculum is comprised of …
13 classes, taken in sequence
three one-credit, pass/fail classes
a senior thesis in the chosen major
Note: This curriculum is in effect for students entering in fall 2019 and beyond. Students entering in fall 2018 or earlier follow a different curriculum.
The Honors curriculum takes the place of the regular Fordham College at Rose Hill core curriculum, with the exception of the language requirement. AP and IB courses can earn students college credit toward graduation; they do not, however, replace any courses in the Honors Program. Most students enter the program at the beginning of their first year, though occasionally it is possible for a few students with strong academic records to join after the first or second semester.
Members of the program are expected to maintain a grade point average of 3.5 or above. Successful completion of the program entitles the student to the designation in cursu honorum on their diploma and transcript.