Prospective Rose Hill Honors Students
"Our program cultivates a culture of learning and exploration that is becoming increasingly hard to find at colleges across the country. Intellectually, I am more confused, yet so much more enriched, for having been in the Honors Program thus far."
- Kacie Candela, Honors Senior
What is the Fordham College at Rose Hill Honors Program?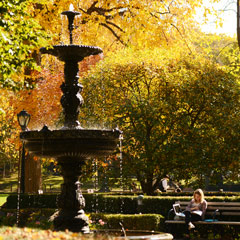 Fordham's required core curriculum is already rigorous. But exceptionally engaged students and lifelong learners find a home here in the Fordham College at Rose Hill Honors Program, where deep intellectual curiosity and ethical commitment unite. As a member of the Honors Program, you will …
pursue your core studies in greater depth and with greater intensity through our alternate Honors core curriculum
connect your studies across disciplines and to real-world issues
ignite and foster your intellectual passions in writing-intensive, discussion-based classes
join a group of involved, community-minded students drawn from every major who go on to attend the most respected graduate and professional schools and excel in their fields
What Are the Honors Program Requirements?
Members of the Fordham College at Rose Hill Honors Program are held to high academic standards in their Honors classes and in their major field and electives. They are expected to maintain a grade point average of 3.5 or above. When they graduate, Honors students receive a designation of in cursu honorum on their diploma and transcript.
How Do I Join the Honors Program?
At Fordham, your application for admission also serves as your application for any merit scholarships and for our Honors Program.
Who Are Our Students?
The Honors Program recognizes and affirms the ethical and intellectual importance of diversity to a robust education. We therefore actively seek a cohort of students with varying identities and backgrounds who can learn from each other's differing experiences, perspectives, commitments, and values.
Rose Hill Honors Class of 2022
Size of cohort: 40 students
Students of color and first-generation college students: 44%
ACT middle 50% score: 32–35
SAT middle 50% score: 1445–1500
High School GPA average: 3.89