Global Business Honors Program Research
As a Global Business Honors Program student, what will you discover that will enlighten the business world?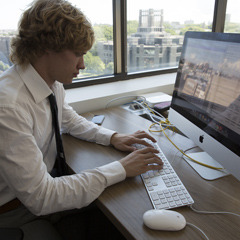 GBHP students work alone or in pairs to conduct original research in business. This is a chance to look into a topic that really interests you, whether it's the purchasing behavior of sports fans or the impact of new U.S. tax regulations on multinational companies.
Here are some recent project topics. Think of what your own might be.
Political Influences in U.S. Accounting Standard Setting
by Kara Norton, BS '16
Peer-to-Peer Lending: Analysis on the Returns and Volatility of P2P Loan Portfolios from 2007-2010
by Ross Garlick, BS '15
The Impact of Female Risk Aversion on Environment, Social, and Governance (ESG) Disclosure
by Leona Lam, BS '16
Evaluating the Economic Worth of the Academy Awards
by Jake Braithwaite, Max Honerkamp, James Shields, and Jillian Switzer, BS '11
Online Privacy and Consumer Attitudes
by Erika Loberg and Cara Luke, BS '14
Addressing Peru's Child Labor Program
by Alisha Mehndiratta, BS '16
The Impact of Globalization on United States Private Equity Performance
by Yujin Ye, BS '12
Economic Factors to Optimize U.S. Olympic Bid City Selection
by Aurelia O'Keefe, BS '15
The Economic Impact of Collegiate Athletic Scandals
by Alex Kohn and Matthew Sinise, BS '14
Economics Without Borders: Exploring New Connections Between European Economic Activity and Latin American Gross Domestic Product
by Rebecca Horne, BS '13
Materiality and Access-Based Consumption: Understanding Consumer-Object Relationships in an Increasingly Cosmopolitan World
by Lauren Teske, BS '15
The Effect of Brand Congruity and Consumer Behavior on Perceptions of Co-branded Products
by Leah Olverd and Christina Sotto, BS '13
Entertainment Marketing Strategy and Transmedia Storytelling
by Vincent Pellizzi, BS '15
The Impact of Leveraged Buyouts on Corporate Governance
by Timothy Lynch, BS '13
The Effects of Food Security in the Middle East
by Kiersten Schmidheiser, BS '16
A Proposal to Change the Corporate Deduction for Employee Stock Compensation
by Christopher Margiotta, BS '14
The Impact of China's Long-term Growth Inhibitors on its Automobile Industry
by Nevin Kulangara, BS '15
The Housing Crisis's Impact on the Banking Sector and Sovereign Debt Crisis: The Case of Spain
by Krystle Diaz, BS '14
The Impact of Islamic Special Interest Groups on the Turkish Economy
by Antonio Delgrande, BS '16
The Effect of the SEC's Modernization of Oil and Gas Company Disclosure on Stock Prices
by Katherine Buckle, BS '14
The Changing Impact of Index Inclusion
by Jonathan Dokler, BS '15
The Effect of Self-Construal on Purchasing Patterns and Attention to Product Detail
by Caitlin Byrnes and Jessica Castano, BS '12
Tapping Out the Tap: America's Water Crisis
by Rachel Aguilar and Melanie Falk, BS '15
Underwriting Syndicates in BRIC Countries: Determinants of Syndicate Size and Member Selection
by John Keaney and Daniel Sawyer, BS '11