Gabelli at Lincoln Center
The Gabelli School of Business expanded to Fordham's Lincoln Center campus in 2014. The program welcomes about 150 new students each fall to their new home in McKeon Hall, where they both live and take some of their courses.
Live in the Center of the Big Apple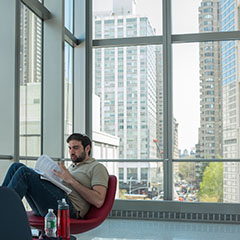 The Gabelli School's Lincoln Center program brings you all the resources and opportunities of Manhattan.
Columbus Circle is your subway stop. The Metropolitan Opera is your neighbor. CBS Evening News tapes around the corner.
When it comes to studying business, there's no place like New York City. It's a six-block walk to AllianceBernstein. You can get dinner next door to NASDAQ. Want to witness the trends in global luxury retail? Go do it. Breitling, Chanel, Nike, Louis Vuitton, and dozens of other brands have flagship stores 15 minutes away from your room.
Study Global Business
All Lincoln Center students earn a Bachelor of Science in Global Business.
Choose from three new academic concentrations in growing fields: