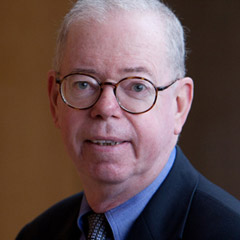 Professor Emeritus
Communications and Media Management
Joined Fordham: 2004
Program Director, MS in Media Management
General Information:
113 West 60th,
New York, NY 10023
Email: [email protected]
John Carey brings 25 years of experience in media-industry research and product development to his teaching at the Gabelli School of Business. His clients have included Google, American Express, AT&T, NBC Universal, The New York Times, Primedia, A&E Television Networks, Digitas, The Online Publishers Association, PBS, Cablevision, Rainbow Media, Scholastic and XM Satellite Radio, among others.

Professor Carey has served on the advisory boards of the Adult Literacy Media Alliance, the Annenberg School For Communications and Fordham's Donald McGannon Communication Research Center. He was a commissioner on the Annenberg Commission on the Press and Democracy, has been an invited lecturer in more than a dozen countries and has presented his research to the boards of major media companies in the United States. Before coming to Fordham, he taught at Columbia Business School and at New York University.

Ph.D.: University of Pennsylvania
Master's: University of Pennsylvania
Bachelor's: Fordham University

New Media Adoption
Consumer Media Behavior
Media Economics
International Communication

Recent publications include:

When Media Are New: Understanding the Dynamics of New Media Adoption and Use (with Martin Elton)
Consumer Adoption of New Media
The Future of Radio
The Challenges in Media Forecasting
How New Media Are Changing Viewer Behavior
Content and Services For Next Generation Wireless Networks
The Future of News, The Future of Journalism
Convergence
The Long Road To Interactive Television.