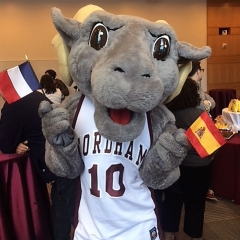 Study abroad at Fordham is part of a long-standing tradition of Jesuit education that seeks to enhance students' understanding of the world's peoples and their interdependence.
Our goal is to help students gain an understanding of other cultures and to incorporate a global dimension to their chosen fields of study. Fordham prides itself in offering its students one of the most extensive networks for foreign study of any major university.
Please stop by our offices—the ISAP staff looks forward to working with you and to offering the advising and services you will need to get the most out of your experience abroad.
BA International Political Economy and French, Fordham University
MA Humanities and Sciences, Fordham University
MPhil French, City University of New York Graduate Center
PhD French, City University of New York Graduate Center

Dr. Rienti is responsible for leading the office that oversees and administers undergraduate study abroad for Fordham University and is responsible for ensuring Fordham University's study abroad programs continue to meet the needs of undergraduate students, faculty, and other academic programs while furthering global learning outcomes. He has spoken at international education conferences in the US and abroad on topics including the gender imbalance in study abroad programs, diversity, innovative student financing models, and risk management in study abroad programs. He has also written on and spoken about the intersection of food and culture. He has taught French courses at Fordham University and City College in New York.

Dr. Rienti is an alumnus of Fordham University and studied abroad at the Universite de Paris, Sorbonne for one year while pursuing his BA. He has lived and worked in France and the UK and has traveled to many countries around the world.

Email: rienti@fordham.edu

BA American Studies, Political Science, and Theology, Fordham University
MA Higher Education and Student Affairs, New York University

Finley is a recent graduate of Fordham, and is excited to rejoin the university community as part of the Study Abroad Office. She had the opportunity to study abroad in London as an undergraduate, and has focused her graduate studies on international education, accessibility, and diversity in higher and postsecondary education. Finley looks forward to connecting current Fordham students to new educational, internship, and travel experiences through the university's programs in London and Granada.

Email: fpeay@fordham.edu

Ms. Joseph has been with Fordham University since 2004. As the Study Abroad Coordinator she oversees the administrative and receptionist duties in the office. She is the friendly voice that will most likely greet you when you call or stop by the Study Abroad Office!

Email: rjoseph@fordham.edu

BA in Anthropology and Communications/Media Studies, Fordham University Rose Hill
Study Abroad Program: Spring 2017, Queensland University of Technology

Elizabeth graduated from Fordham University and spent a semester in Brisbane, Australia. She is excited to be working in the Study Abroad office and looks forward to helping students prepare for their own global journeys.

Email: ecollins29@fordham.edu

Fordham University Rose Hill, BA expected May 2025

Study Abroad Program: Summer 2022, Fordham in Granada

Peyton is a current student at Fordham University, and is excited to be working with the Study Abroad Office. She had the opportunity to study in Granada, Spain her freshman year and hopes to encourage other Fordham students to take advantage of study abroad and find the right program for them.
Senior Director of the Centre

vbeever@fordham.edu

Facilities Manager, London Centre
nblake4@fordham.edu

Student Life Coordinator, London Centre

Assistant Head of the London Centre, Director of Student Affairs

Academic Programs Manager
Academic Programs Manager, London Centre

vschreiner@fordham.edu