Manresa Program Community Standards
What kinds of students thrive in Manresa?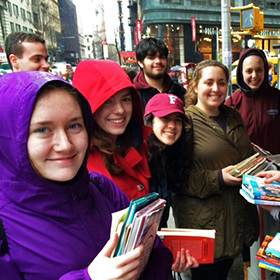 Given Fordham's Jesuit commitment to a well-rounded education, an important part of which emphasizes the ideal of disce ubi habites ("learn where you live"), you will participate in series of enriching activities designed in concert with Academic Affairs, Residential Life, and Mission and Ministry to foster a holistic living-learning experience.
Let Scholar Francesca Russo tell you more about how students flourish here.
A Manresa Scholar feels comfortable leading the pack, even in small ways. Whether that means being the first person to sign up for white water rafting, or hanging back on a Saturday night to catch up on homework, Manresa Scholars are not easily pressured; they feel confident in their choices.
A Manresa Scholar is not afraid to ask for help. Being in the Manresa Program is a day-to-day commitment that can feel stressful at times. A Manresa Scholar recognizes when to lean on their peers for help, whether it be meeting with a tutor for help on a history paper, or just asking a friend for advice.
A Manresa Scholar is in touch with their spirituality. Spirituality means something different and special to everyone. To thrive in Manresa, one must strive for the Jesuit ideal of magis- more. They are working toward something bigger than themselves, whatever that may be.
A Manresa Scholar is open to new experiences. Fordham is an incredible place filled with rich diversity that is celebrated and encouraged in the Manresa Program. Manresa Scholars have a comfort zone, but they aren't afraid to leave it and learn something new- about themselves and the world around them.
A Manresa Scholar is ready to set the world on fire. Being a student at Fordham, especially in the Manresa Program, is an incredible gift. Manresa Scholars recognize this privilege and use it to better themselves and the community in whatever ways they can, as they "go forth and set the world on fire."