Manresa Program Application Information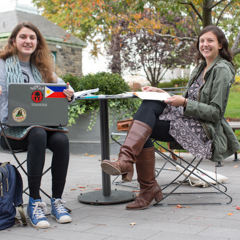 Admission to the Manresa Scholars Program is competitive. If you would like to be considered for the Program, you must complete three (3) tasks:
The Pre-Application for 2022-2023 will open on May 16, 2022 with a deadline of June 1, 2022. This Pre-Application requires submission of a 300-word essay (for topic, see bottom of this page).
Complete the Office of Residential Life's general housing application, which will be made available on June 9, 2022. Be certain to indicate Loyola Hall (where the Program is housed) as one of your top two choices.
If accepted, confirm your place in the Program by replying to your acceptance email, which would be sent to your Fordham email in early June.
Your admission to Manresa also brings along with it important responsibilities. Learn more about our shared course expectations and community standards for you as a Manresa Scholar.
The newly-renovated Loyola Hall is the home of the Manresa Scholars Program. The Manresa Program is a rigorous and exciting integrated learning opportunity for freshmen at the Rose Hill campus.

If you are a Fordham College at Rose Hill (FCRH) student admitted to the Program, you will take a Manresa seminar course from one of five options, taught by one of Fordham's most talented professor-scholars, who also serves as your academic advisor. In these demanding small classes, you get to know your professor/advisor and classmates well, creatively investigate academic disciplines in the Ignatian tradition, engage with the community around you, explore questions about the value and meaning of liberal arts education in the Jesuit tradition, and integrate in-class learning with co-curricular activities that take advantage of Fordham's location in New York City and the intellectual curiosity of your peers.

If you are a Gabelli School of Business (GSB) student admitted to the Program, you will take one of three-course options, one of which is a specialized version of "The Ground Floor." This course introduces you to the foundations of business, prompts you to work with peers to develop a business plan, challenges you to think "entrepreneurially," and exposes you to multinational corporations in New York City.

The following incoming student populations are ineligible for the Program, due to the time commitments demanded by their academic and extracurricular activities, as well as different curricular requirements.

Students in the FCRH Honors Program (however, Gabelli Honors Program students, including the Global Business Honors Program and Ignite Scholars Program students are eligible)
Students pre-placed into College Writing 1/Intercultural Skills 1 Lab through Fordham's Institute for American Language & Culture
Students pursuing a Pre-Health or STEM (i.e. 3-2 Engineering, Biological Sciences, Chemistry, General Science, Integrative Neuroscience, and Physics/Engineering Physics) course of study.

Psychology majors who are not Pre-Health are eligible. Computer Science and Information Science majors who are not Pre-Health or in the 3-2 Engineering Program are eligible. Mathematics majors who are not Pre-Health or in the 3-2 Engineering Program are eligible.

Some varsity student-athletes, at the discretion of the Program's Faculty Director and the Office of Academic Advising for Student-Athletes, given the differing time commitment levels of certain sports.

Manresa Pre-Application will open on Monday, May 16 at 6pm EST and close on Wednesday, June 1, 2022 at 6pm EST.

The Pre-Application asks you to respond to the below 2-part prompt (total: 300-word limit). You should prepare this brief response in advance if you are interested in applying to the Program.

Articulate your understanding of a year-long commitment to the expectations and spirit of the Manresa Scholars Program and the community standards of the Loyola Hall Residential College.
How will your personal and academic strengths enrich yourcontributions to the Program?