Fordham Leadership Accelerator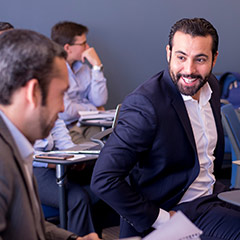 Propel your leadership growth trajectory for maximum career impact through our part-time, professional accelerator program.
2022 Program Module Dates:
April 23-25
May 13-15
June 3-5
Please note: these dates are all-inclusive, and to complete the program, attendance is required for the entirety of all three weekends.
Over the course of three 3-day weekends, you'll learn and discuss topics ranging from ethical leadership and technology to corporate governance and financial management—all under the expert guidance of Gabelli's graduate business faculty and leadership coaches.
Moreover, each participant will leave with a personalized growth strategy catered specifically to their position, so they can better the world of business as they grow.
Ready to show your leadership skill who's boss?

*For group enrollment or corporate pricing, see Program Details.