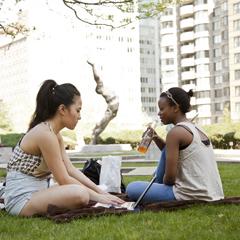 UPDATE: Unfortunately, due to the current circumstances related to COVID-19, we have decided to cancel the NYC Business Insider program this summer.
It takes just one week—five days behind the scenes of Wall Street, Madison Avenue, and Silicon Alley—to show you what a career in business looks like.
Fordham's Gabelli School of Business invites high school juniors and seniors to experience New York City as the commercial capital of the world.
Network with new friends, and maybe even with your future college professors. Visit the boardrooms, showrooms, and stadiums where business gets done in New York. In the process, pick up fundamental business concepts that you could apply to a future career in:
Fashion
Major league sports
Accounting
Marketing
Social Innovation
A day in the life
Morning (9 a.m. – 12 p.m.): Get a briefing at Fordham's Lincoln Center campus about current trends in one of the five areas, courtesy of Gabelli School faculty members or visiting professionals
Midday (12 – 1 p.m.): Enjoy lunch with university representatives and current students to find out about university and student life
Afternoon (1 – 4 p.m.): Travel with your group each day for an on-site visit at the New York City headquarters of a different company, such as KPMG
Program benefits
By personally meeting and interacting with business professionals, seeing their workplaces, and hearing about their career paths and experiences, you can:
Get exclusive access to company boardrooms and interact with top business executives in NYC
Uncover which careers interest you
Envision yourself in business
Think about whether a college degree in business is right for you
Get the inside track on getting the most out of college
Meet with current students to find out about university and student life
Have a unique experience that will improve your college application, and maybe even provide an essay topic!
Who should attend
Rising high school juniors and seniors
We are unable to consider applications from international students at this time
Program dates and hours
August 3-7, 2020.
9 a.m. – 4 p.m.
Participants are responsible for finding their own housing arrangements for the duration of this program. This is a commuter-based experience and campus housing is not available.
Location
Fordham University | Lincoln Center campus:
140 W. 62nd Street, New York, NY 10023
(accessible by 1/A/B/C/D subway lines)
Fordham University | Rose Hill campus:
Hughes Hall, 441 E. Fordham Road, Bronx, NY 10458
(accessible by D subway line and MetroNorth Railroad)
Daily trips are supervised; the entire group will take chartered Fordham University vans or public transportation together to site visits.
Application information
Applications received on or before April 1 will qualify for priority registration.
Applications received after April 1 will be reviewed through rolling admission while space remains available.
Payment information
A $50 deposit is required when applying to the program.
The program cost is $1000 total ($950 after $50 deposit). The fee balance and signed program agreement form are due within 1 week of notification of acceptance to the program.
The program fee includes all academic materials and transportation to and from company visits.
A limited number of need-based discounts are available and can be requested on the application. Need-based discount applications must be submitted by April 1. All students are encouraged to apply.
Refund policy
Program fee and deposit are fully refundable prior to June 15
80% refund will be issued between June 15-30
Program fee is non-refundable after July 1
Registration
Questions?
What student participants are saying …
"During the NYC Business Insider program, I was able to learn about different kinds of business each day and really get a feel for what life as a business student at Fordham would be like. Not only did I get to experience a day in the life in the business world, but I also made connections with people I would not have gotten the chance to meet elsewhere. It was very exciting to be on the Fordham campus and attend lectures given by Fordham professors and other professionals. The site visits were both interesting and fun, and through them, I gained an inside view of different types of businesses. I also enjoyed meeting other students and even made some new friends."
"A career in business requires expertise, experience, and connections. The New York City Business Insider program provided knowledge through morning lectures and introduced me to experienced executives at Calvin Klein, Grand Central Tech Accelerator, and J.P. Morgan. It is a week worth attending, even for those well versed in business—if not for the education, for the network you can build."
What parents are saying …
"I know of no other program that gives kids with an interest in business such broad exposure to business school and business careers in one week."
"My son had an absolutely wonderful experience with the NYC Business Insider Program. In one week, he had exposure to a top-notch undergraduate business school, its New York City campuses, and its full range of majors and offerings. In that same week, he also had the opportunity to visit a variety of exciting businesses, including the New York Mets, J.P. Morgan, and Grand Central Tech Accelerator. The program was a fantastic way to see—and experience firsthand—business school and business careers. I would highly recommend the program to any high school student thinking of pursuing a career in business."