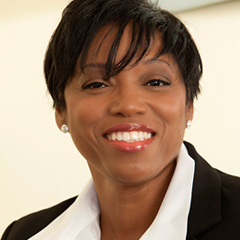 Kay Turner
Kay Turner joined Fordham University in 2017 as vice president for human resources. She has an extensive background in human resources at higher education, nonprofit, and government institutions, including multistate operations in the tri-state area. Turner served for four years as vice president of human resources at the New Jersey Institute of Technology (NJIT), where she acted as an adviser to the board of trustees and the university president on executive compensation, secured three years of funding to advance technology within HR, and launched a successful internal HR marketing campaign that led to a widely published cadre of HR services and solutions.
Prior to her role at NJIT, Turner was vice president of human resources at the Jewish Child Care Association, a nonprofit providing child welfare, and mental health services to underprivileged families and children. In her role, she supported and trained more than 800 full-time employees and 300 per-diem employees in its multiple New York locations.
As director of employee relations at the nationally recognized Hackensack University Medical Center, a 900-bed non-profit, research, and teaching hospital in Hackensack, New Jersey, Turner helped secure $8 million in annual savings and ensured federal and state legislation compliance. She served as director of employee relations and diversity at the MTA Metro-North Railroad, the second-largest commuter railroad in the country with 6,000 employees and 18 collective bargaining agreements.
She has held a number of legal positions, including attorney and assessment liaison for the New York City Board of Education; assistant district attorney at the Kings County District Attorney's Office; and attorney and mediator for the U.S. Equal Employment Opportunity Commission. Turner earned a bachelor's degree in economics from the City University of New York and a J.D. from St. John's University School of Law. She and her family live in the Bronx.