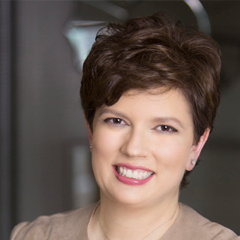 Gilda Bonanno, GSAS '94
Gilda Bonanno helps people in various industries transform their communication and leadership skills so they can have more confidence, influence, and success. She has worked with leading organizations, including GE, Travelers, Praxair, Assa Abloy, Wells Fargo, and Yale University, on four continents from Chicago to Shanghai and Rio to Rome.
Since 2006 she has run Gilda Bonanno LLC, a successful business that reaches countless people globally. She has delivered thousands of in-person programs, views of her YouTube channel have exceeded 1 million, and her digital newsletter has reached subscribers in more than 45 countries since 2008.
Bonanno collaborates with people at all organizational levels, from C-level executives to sales teams to frontline managers, to deliver keynote speeches, breakout sessions, and presentations about communication, leadership, motivation, and networking. She offers customized one-on-one coaching and mentoring in executive communication and presentation skills, as well as high-energy, results-focused training programs.
Her real-world work experience in corporate, academic, government, nonprofit, and entrepreneurial environments gives her a keen understanding of the challenges facing organizations. Bonanno achieves results for her clients by combining this experience with her business background, her onstage performance experience, and a conviction that with the right training and practice, anyone can become a more effective communicator and leader.
Bonanno is an adviser to the Women's Business Development Council in Connecticut, where she serves as emcee for both the Annual Women-Owned Business Day at the State Capitol in Hartford and the council's annual business luncheon, attended by more than 700 elected officials, corporate professionals, and entrepreneurs. She holds a master's degree from Fordham University and an advanced business certificate in management from the University of Connecticut School of Business.