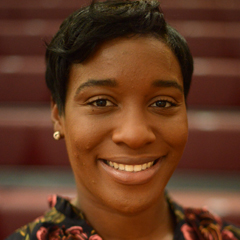 Djenane Paul
Djenane Paul is the senior associate athletic director/senior woman administrator at Fordham University, a post she accepted in 2016. Previously, she had joined Virginia Commonwealth University (VCU) in 2014 as director of compliance, assisting in the coordination of the compliance program and helping to monitor and certify financial aid. Named the assistant athletic director for compliance and student services at VCU in 2015, Paul had been responsible for overseeing a comprehensive athletics compliance program, including the development of policies and procedures to ensure the teams' compliance with applicable NCAA and Atlantic 10 rules and regulations.
Paul served as the compliance coordinator for Fordham athletics in 2013–2014, where she assisted in overseeing all compliance matters related to playing and practice seasons, recruiting, and initial eligibility for all new and transferring student-athletes, along with financial aid. She helped complete the Academic Progress Report for Fordham, as well as conduct NCAA rules education for student-athletes, coaches, and institutional faculty and staff.
She is a graduate of Stony Brook University, where she earned a bachelor's degree in psychology in 2009 and a master's degree in public policy in 2010. As an undergraduate, she served as an assistant director of football operations for the Seawolves from 2007 to 2009. In 2009–2010, she was a graduate assistant with the Stony Brook football team, coordinating activities related to official and unofficial visits, organizing databases of prospective student-athlete profiles, and briefing student-athletes on issues associated with NCAA regulations.
Paul received a Juris Doctorate from the Florida A&M University College of Law in 2013. She spent 2012–2013 at the Marquette University Law School, where she served as a student worker for the National Sports Law Institute.