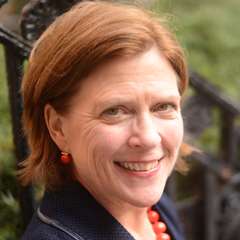 Martha K. Hirst
Martha K. Hirst is Fordham University's senior vice president, chief financial officer, and treasurer. She came to Fordham after four years at St. John's University, where she served as executive vice president, chief operating officer, and treasurer.
At St. John's, Hirst managed the university's $450 million operating budget and headed its operations area. She led a team of internal and external real estate, legal, financial, and higher education experts that marketed and sold the university's Murray Street property for a record-setting $223 million, increasing St. John's endowment by 50 percent. She also directed the lease and fast-tracked build-out of a new, efficient, state-of-the-art facility on Astor Place in Manhattan, for St. John's School of Risk Management and intensive English language programs, and oversaw the university's purchase of a 200-unit off-campus student residence, converting a long-term lease to ownership, with sustainable annual savings to the university.
Prior to St. John's, Hirst served as commissioner of New York City's Department of Citywide Administrative Services for eight years and as deputy commissioner of the Department of Sanitation for six. She held key roles under every mayor from Ed Koch to Michael Bloomberg, including positions in housing, intergovernmental relations, real estate, energy management, and facilities management and construction. Hirst headed the team of solid waste management planners and engineers that designed, secured regulatory approvals for, and implemented the closing of the Fresh Kills landfill on Staten Island. She also oversaw recycling education and outreach programs for the city.
Hirst received a bachelor's degree, magna cum laude, from New York University, where she was elected to Phi Beta Kappa, and a master's degree in urban planning from New York University's Wagner School of Public Service. She has two sons and lives in Manhattan.