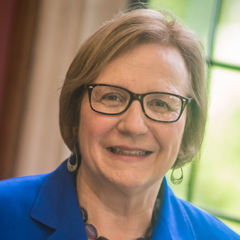 Christine Firer Hinze
Christine Firer Hinze is a professor of Christian ethics and the director of the Curran Center for American Catholic Studies at Fordham University and is currently the vice president of the Catholic Theological Society of America. Her teaching and research focus on foundational and applied ethical issues, with special emphasis on the dynamics of social transformation, Catholic social thought, and economic and work justice for women, families, and marginalized groups.
Hinze received her bachelor's and master's degrees from the Catholic University of America in Washington, D.C., and a Ph.D. from the University of Chicago. Her recent publications include Glass Ceilings and Dirt Floors: Women, Work, and the Global Economy (Paulist Press, 2015) and essays in Theological Studies, Journal of the Society of Christian Ethics, Proceedings of the Catholic Theological Association of America, and The Journal of Catholic Social Thought.
Hinze and her husband, Brad, the Karl Rahner Chair in Theology at Fordham, are the parents of two sons and members of Our Lady of Angels parish in the Bronx.