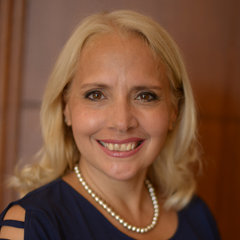 Valerie Torres, FCRH '83, GRE '01, '08
Valerie Torres is a faculty member and chair of the religious education department at Aquinas High School, an all-girls Catholic school in the Bronx. She is interested in STREAM (Science, Technology, Religion, Engineering, Art, Mathematics) education, empowering students, families, and faith communities, as a way of bridging the academic gap and engaging in ministry in the world.
Born and raised in New York City, Torres is an educator with diverse academic, business, educational, and nonprofit community organizing experience. A graduate of and an adjunct faculty member at Fordham University's Graduate School of Religion and Religious Education, she was the first graduate of the doctoral program asked to design and teach an online course, "Hispanic Family Ministry and Catechesis." She is also a graduate of Fordham College at Rose Hill.
While working in the computer science field at AT&T Labs Research, Torres pursued a doctoral degree in religious education and also dedicated much time to STEM (Science, Technology, Engineering, Mathematics) initiatives, offering presentations on-site and in schools to motivate and challenge students to pursue careers in STEM fields. She presented at the 2012 National U.S.A. Science & Engineering Festival in Washington, D.C., and the HISPA Youth Conference at Princeton University.
Torres taught leadership formation and Bible study to adults in Spanish at the Institute of Religious and Pastoral Studies. As a member of the New York Archdiocese's Hispanic Educational Catholic Advisory Board, she sought ways to encourage Latino families to enroll their children in Catholic schools.
In her community, Torres chairs the board of directors of Aquinas Housing Corporation, a grassroots nonprofit organization founded in 1981, when much of the Bronx was in peril. As its mission, the group strives to provide affordable housing to low- to moderate-income families and to empower communities "till everyone is home."