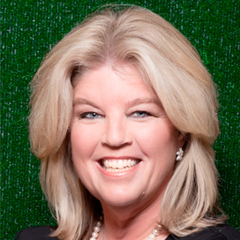 Christine Driessen, GABELLI '77
Christine Driessen is the executive vice president and chief financial officer for ESPN. She is responsible for overseeing all of the company's financial operations worldwide and has influenced ESPN's unprecedented growth over the past 32 years through her strategic role as financial counsel during every rights negotiation, every affiliate negotiation, and at every turn.
As ESPN's most-tenured senior woman, Driessen's impact is felt by many and transcends her business success. She was instrumental in the award-winning Global Sports Mentorship Program–a joint ESPN and U.S. Department of State initiative created to sustain sports opportunities for underserved women and girls worldwide. Driessen also founded ESPN's Executive Women's Forum, a group dedicated to helping women executives succeed in business and at ESPN.
Driessen joined ESPN in August 1985 as controller and was named vice president of finance and planning in 1990. In 1994 she was promoted to senior vice president and chief financial officer, and in 1998 she was elevated to the position of executive vice president.
Driessen graduated from Fordham University with a Bachelor of Science degree in accounting. She is married with two children.