Margaret Mary (Peggy) Smyth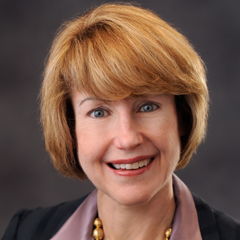 Margaret Mary (Peggy) Smyth, FCRH '85
Peggy Smyth is the chief financial officer of National Grid US, one of the largest utilities in the United States. Highly experienced in organizational effectiveness and change, she is known for leading team transformations resulting in increased productivity, engagement, and performance.
Under her leadership, National Grid is driving the transition to the clean energy future, developing financing models for new energy solutions like battery storage, solar energy, and the expansion of electric vehicle charging stations. Smyth has a personal interest in advancing sustainability accounting practices, and is a Sustainability Accounting Standards Board FSA Credential Holder. She led a CFO roundtable at the United Nations in 2018, spearheading dialogue about the business case for sustainable decision-making.
Smyth was formerly vice president of finance at Consolidated Edison Inc. in New York and, prior to that, chief financial officer and vice president of finance at Hamilton Sundstrand, a United Technologies company. She held financial leadership roles at 3M, Deloitte, and Arthur Andersen.
A member of the board of directors of British-American Business and the Organization for International Investment, Smyth is also a director and member of the audit committee of Etsy Inc. and an audit committee member of two subsidiaries of Mutual of America. She is a trustee for Concern Worldwide (U.S.) Inc. and a member of the executive committee of the President's Council at Fordham University.
Smyth resides with her family in Connecticut, has a second home in County Roscommon, Ireland, and maintains dual citizenship.