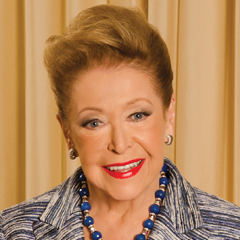 Mary Higgins Clark, FCLC '79
Mary Higgins Clark's books are worldwide best-sellers. In the United States alone, her books have sold more than 100 million copies.
Her most recent suspense novel, I've Got My Eyes on You, was published by Simon & Schuster in 2018. In 2014, she published the first in a series of collaborative novels with Alafair Burke, The Cinderella Murder, which was followed by All Dressed in White in 2015, The Sleeping Beauty Killer in 2016, and Every Breath You Take in 2017. She is the author of 38 previous best-selling suspense novels, four collections of short stories (the most recent, Death Wears a Beauty Mask), a historical novel, a memoir, and two children's books. She is co-author, with her daughter Carol Higgins Clark, of five suspense novels. Two of her novels were made into feature films and many of her other works into television films.
Active in Catholic affairs, Higgins Clark was made a Dame of the Order of St. Gregory the Great, a papal honor. She is also a Dame of Malta and a Lady of the Holy Sepulcher of Jerusalem. She received the Catholic Big Sisters Distinguished Service Award in 1998 and the Graymoor Award from the Franciscan Friars in 1999. Honors she has received include the Gold Medal of Honor from the American-Irish Historical Society (1993), the Bronx Legend Award (1999), the 2001 Ellis Island Medal of Honor, the Passionist's Ethics in Literature Award (2002), the first Reader's Digest Author of the Year Award (2002), and the International Mystery Writers' "First Lady of Mystery" Award (2008). She is an active advocate and participant in literacy programs.