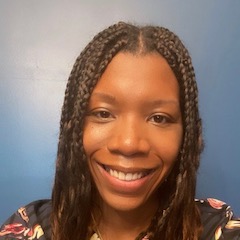 Ph.D.
Assistant Professor
Coordinator for Comprehensive Examinations
Division of Psychological and Educational Services
113 West 60th Street
Room 1008F
212-636-7749
[email protected]
Office hours:
Mondays, 10 a.m. - 2 p.m. (Please email for appointment.)
Wednesdays, 2 p.m. - 4 p.m.
Courteney Johnson is an assistant professor in the Fordham Graduate School of Education's Division of Psychological and Educational Services. Johnson's dissertation explored "Increasing the Effectiveness of a Social Emotional Learning Curriculum for African American Students with Internalizing Symptoms through Cultural Adaptation". She says the experiences creating her disssertation undoubtedly shaped her interest in researching the ways in which schools, and clinicians, can better address the social-emotional needs of diverse populations, for instance, the cultural adaptation of a social emotional curriculum for Black teens.
Johnson's research interests focus on modifying evidence-based practices and interventions for specific projects. She is currently working on two projects, one on adapting a social emotional learning curriculum for Black youth, the other, looking at ways to support the implementation of Positive Behavioral Intervention and Supports (PBIS) in classrooms with children on the spectrum, by integrating identified evidence-based practices.
Johnson is also a certified school psychologist and licensed psychologist in New York State. She has worked in both clinical and administrative roles within NYC schools. She completed an APPIC/APA accredited internship at the Louisiana State University Student Health Center as part of their School Psychology Consortium. Johnson received her Ph.D. in School Psychology from the University of Massachusetts-Amherst.
Ph.D., School Psychology, University of Massachusetts – Amherst

M.S.Ed., Special Education, Hunter College

B.A., Psychological and Brain Sciences, The Johns Hopkins University

Research Interests

Courteney Johnson's clinical and research interests focus on modifying evidence-based practices for specific populations, including cultural adaptation of social emotional curriculum and identifying best practices for adapting Positive Behavioral Interventions and Supports (PBIS).

Select Publication

Johnson, C., & Whitcomb, S. (October 2016). The promotion of positive racial identity to combat depression in African American youth. Communique

School-based Consultation (two sections); PSGE 7445 (fall 2022)

Emotional Disorders, PSGE 7452 (spring 2023)

Clinical Supervision, School Psychologist - PSGE 6418 (spring 2023)