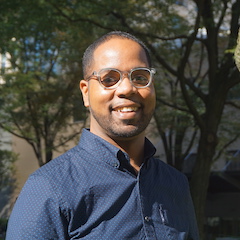 Ph.D.
Clinical Coordinator/Assistant Professor of Counseling Psychology Psychological and Educational Services
113 West 60th Street
Lowenstein 1121
212-636-6413
[email protected]
Office hours: Thursdays, 2:30-4:30 p.m.
Kip Thompson is a New York state licensed psychologist. His research interests include Black American college student mental health, sociocultural differences in coping from traumatic stress as a result of Hurricane Katrina, positive youth development, program evaluation, and community risk assessments of sexually violent predators.
Thompson completed his pre-doctoral internship in psychology at the Center for Multicultural Training at Boston Medical Center, and the Leadership Education in Adolescent Health post-doctoral fellowship in the Division of Adolescent/Young Adult Medicine at Boston Children's Hospital/Harvard Medical School. He has provided psychotherapy and psychological evaluation services in schools, correctional and substance abuse treatment facilities, community mental health centers, private practice, a residential senior citizen center, college counseling centers, and hospital settings.
B.A. in Psychology, Morehouse College
M.A. in Psychology, University of South Carolina
Ph.D. in Clinical-Community Psychology, University of South Carolina

Fall 2019: Theories of Counseling, Multicultural Counseling, General Psychopathology

Spring 2019: Advanced Assessment and Appraisal, Doctoral Practicum IV: Integrative, Counseling Program Development and Evaluation

Civic engagement, travel with friends, white water rafting, movies, cooking