Student Accommodation in London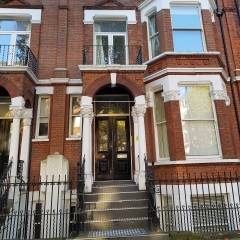 Students taking part in an undergraduate study abroad semester or program are required to live in Fordham-arranged housing in London. Accommodation provided by Fordham London is only open to students enrolled in one of Fordham's study abroad programs based at the Fordham London Centre.
Student accommodation in London follows an apartment style model with accommodation options located in residential areas of Central London, all within an easy commute to the London Centre. The accommodation options are based in Zones 1-2 of the Transport for London fare map, meaning that they are well connected for exploring our great city. The housing is overseen by the London Centre team, while the day-to-day management is the responsibility of our specialist housing partners.
Students share twin or triple bedrooms and then share living areas with additional flatmates, please note that some rooms have bunk beds. Flats include at least one bathroom, a living space with couches, television and dining table, and a generous-sized kitchen. All flats have wireless internet access as well as landline telephones. The kitchen includes a refrigerator, a washer-dryer, the usual appliances like a toaster, microwave, and kettle, as well as pots, pans, plates, bowls, cutlery, glasses and mugs.
Each week, a cleaning service is provided for the communal areas in each apartment. Bed linen is provided and the sheets are switched once per week. Students launder their own towels and duvet cover. In British beds it is normal to only have a fitted sheet and a duvet, and this is the situation at our accommodation.
Shortly after being accepted to your chosen study abroad program, you will receive a housing packet and go through the housing selection process in the Study Abroad Portal. In the housing assignment process, students are ranked according to when we receive your signed financial commitment form in the Study Abroad Portal.
Note: the London Centre housing options can vary from semester to semester depending on availability and study abroad enrollment. Students may often need to make use of public transport to reach the Centre; please remember that commuting costs are a personal expense in London.
Special medical housing requests can only be considered upon completion of the Fordham University Office of Residential Life Special Housing Request Process prior to completion of your housing questionnaire in the Study Abroad Portal. Please complete this form and send it to:
[email protected] (LC students)
[email protected] (RH and external students)
A Day in the Life