Health and Well-Being in London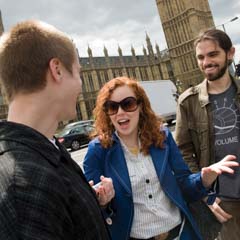 Studying abroad is a unique experience, the opportunity to explore new countries, cultures and cuisines. To ensure that students are able to access the support that they may need while away from home, all students participating in an undergraduate study abroad program in London are enrolled in the University's study abroad health insurance plan. The insurance plan is included as part of your program fees and covers access to health services (primary care, emergency care, mental health services) both in the UK and across Europe. Should you have your own insurance plan already in place then you are encouraged to use whichever plan is best for you.
The London Student Affairs team provide detailed information to students regarding health care providers as part of the onsite Orientation and provide students with ongoing support in all health related matters during the course of a semester in London. Students are able to access these resources independently or reach out to the team for guidance and assistance.
For physical health, we recommend a number of local doctors' offices (referred to as GPs) such as London Medical, Claremont Clinic, and London General Practice these would be the equivalent of your primary care physician. These doctors will be able diagnose and prescribe medication if required.
For students seeking mental health support, Liz Woods is Fordham London's student mental health counsellor and works with students a couple of days per week on campus. If you need further support, there are a number of practices that we recommend including Harley Street Therapy, Sloane Court Clinic, and The Child and Family Practice.
In our experience, it is the students who try to balance their semester who have the best overall experience. Here are some hints and tips from the Student Affairs team:
If you take prescription medication, make sure you have an adequate supply for the duration of your stay.

Maintain your usual activities or consider adding something positive and new. If you currently work with a therapist, make a plan for how you might continue to meet with them or reach out to the Student Affairs team to set up a local plan for London.

Before you leave, try to schedule a time with your family and friends where you can check in weekly or bi-weekly through Facetime or Skype.

If you plan to travel, consider spacing out your trips as to spend some time in London over the weekends.

Recognise that your normal support network of friends and family may not be immediately available, so be patient with yourself and consider making use of the support services in London.

Be open-minded about experiences and opportunities, joining in with Fordham London activities can lead to new friendships and add value to your semester abroad.

Be aware that the UK and US may not be as similar as you first think, adjusting to the culture and feeling homesick is not uncommon. Try to learn about these differences, perhaps do some research before you arrive and be honest with yourself if you are feeling homesick.