Full-Time M.B.A. Structure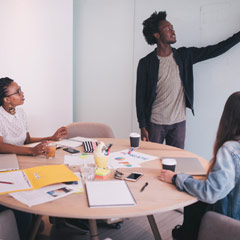 The Full-Time MBA consists of a streamlined 60 credits, completed full-time in two years.
Year 1 provides all core business courses up front, giving you an advantage as you interview for internships. Year 2 gives you the freedom to choose courses based on your interests and career goals.
Throughout the Full-Time MBA program, comprehensive self-assessments will help you to:
Identify strengths and areas for growth
Choose electives
Focus your career planning
Here's what a two-year program might look like:
Year 1: Strategic, Fixed Core Schedule Example
Pre-Term
Fall Term
Spring Term
Gabelli Launch

QuantCamp Boot Camp
Leadership Development
Career Development
Global or US Action-based Learning Project




Gabelli Plus Enrichment Activities
Economics
Marketing
Business Tech & Analytics
Ethics
Accounting
Management
Strategy
Finance
Statistics
1 Elective or Concentration Course
Global or US-based Applied Learning Consulting Project
Year 2: Flexible Courses, Chosen for Concentration and Career
Summer
Fall Term
Spring Term
Gabelli Plus Enrichment Activities
Internship
Flexible Core - Choose 2 of 4:

Leadership Communication
Managerial Accounting
Business Law
Operations Management

4 Electives/Concentration Courses

3 Elective/Concentration Courses