M.B.A. Internships and Job Placements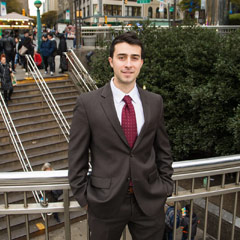 Every Full-Time MBA student begins the program with previous work experience. It is a requirement for admission, and it's what makes your Fordham classmates so interesting. Each person contributes to class discussions based on his or her own unique work history.
It may sound strange to think about holding an internship after you've already held a job.
But MBA-caliber internships are a crucial step toward the career you are planning post-graduation.
Landing Your Dream Internship
To aid in your MBA internships search, you will have access to the full slate of resources provided by the Gabelli School's Career Development Center, staffed by full-time career advisors who specialize in graduate students' needs and are based full-time at the Lincoln Center campus.
High-ranking alumni on the Gabelli School's Advisory Board also take an active role in helping Full-Time MBA students find internships.
Our Results
Below is a sample of summer internship placements for the class of 2023:
Amazon
American Express
AstraZeneca
BlackRock
Citigroup
CVS Health
Gartner Consulting
IBM
Jefferies
McKinsey & Co
NBCUniversal
Nissan Motors
Reckitt
Regeneron
Sam's Club
Verizon
Wells Fargo
ZS Associates
For the class of 2022, the average salary for accepted full-time offers is $131K. Here is a sample of full-time job employers:
Amazon
American Express
Bank of America
Church & Dwight
Citigroup
Gartner Consulting
Google
JPMorgan Chase
KPMG
McKinsey & Co
PepsiCo
PWC
SAP
SC Johnson
Unilever
Verizon
Wells Fargo
ZS Associates