Leading People and Organizations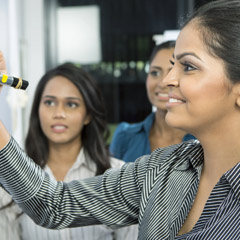 Area chair: Michael Pirson
Contact: [email protected]
The leading people and organizations area at the Gabelli School of Business focuses on the following strategic areas:
Ethical leadership
Career management, focused on personal and professional calling
Innovation, including social innovation
Entrepreneurship, including social entrepreneurship
Global sustainability management
The area's faculty research has global visibility and is frequently cited in professional journals and the popular press. Some faculty focus mainly on individual-level factors such as character, trustworthiness, or mindfulness. Others look at the group level of what makes highly functional teams work. Many examine how organizations of all kinds can better contribute to solving social problems. Overall, the area's research aims to create insights on how people can manage better.
Faculty contribute to this goal by participating on editorial boards, editing globally prominent journals, and serving in leadership roles in the Academy of Management and other professional associations.
Two endowed chair positions at Fordham reflect the leading people and organizations area's values: the Felix Larkin Chair of Character-Based Leadership and the James A.F. Stoner Chair for Global Sustainability. Renowned faculty from across the University and beyond collaborate with the area.
Undergraduate students take the integrated core course Principles of Management and can select electives in management consulting, leadership, creativity and innovation, and sustainability and entrepreneurship.
Undergraduates have access to these opportunities to earn degree credentials related to leading people and organizations:
Master of Science in Management, and students in the Gabelli School MBA program may take the Leading People and Organizations course.
Leading People and Organizations courses are also part of an Advanced Certificate Program offered by the Gabelli School:
The leading people and organizations area is home to the Center for Humanistic Management and Consortium for Trustworthy Organizations and is a partner of the International Humanistic Management Association.
---
Featured Research
Michael Andreas Pirson, forthcoming, "Reconnecting Management Theory and Social Welfare," Journal of Business Ethics. (forthcoming)
Michael Andreas Pirson, forthcoming, "A Humanistic Perspective for Management Theory: Protecting Dignity and Promoting Well-Being," Journal of Business Ethics. (forthcoming)
Michael Andreas Pirson, Kirsten Martin, and Bidhan Parmar, 2017, "Formation of Stakeholder Trust in Business and the Role of Personal Values," The Journal of Business Ethics, 145(1), 1-20. (2017)
Ying Hong, Yuan Jiang, Hui Liao, and Michael C. Sturman, 2017, "High Performance Work Systems for Service Quality: Boundary Conditions and Influence Processes," Human Resource Management, 56(5), 747-767. (2017)