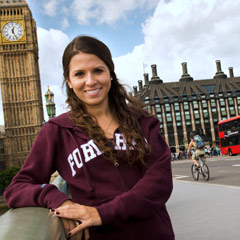 Fordham in London offers study abroad programming in Business and the Liberal Arts. Academic internships are also available and the ability to enroll in courses at University of Westminster, City University, and Queen Mary University of London.
The courses at Fordham in London are designed to make as much use as possible of London's unique resources and opportunities, integrating them whenever possible into the curriculum, be it through field trips or guest speakers. A broad range of liberal arts and business courses is offered each semester, ranging from introductory courses in art history, politics and sociology to more specialized courses in finance, media or accounting.
We are here to provide you with an inclusive learning environment and additional support to help you thrive. We are not only committed to the Fordham tradition of excellence, but also to offering new learning experiences in the classroom and around the city.