Writing for the Common Application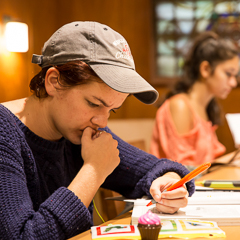 Required Writing
Essay
The essay—part of the Common Application—is the best opportunity we have to get to know you as a unique individual.
And, we want to get to know you. So, tell us! Write in your own unique voice. Help us understand who you are, what moves you, and why we're a good fit for each other.
We want to learn some other things, too, such as how you express yourself through the written medium, and how you approach and answer the question you choose.
At Fordham, we consider communication skills a critical part of your education, and we want to make sure you're ready to engage with a community of scholars.
Optional Writing
We're now giving you additional opportunities to tell us more about yourself in optional writing sections in the Common Application. If you do not choose to use these sections, you will not be penalized in the application process.
Short Response
This short response question (150 words max) is meant to help you reflect on your personal growth and consider how you might continue to grow at Fordham:
At Fordham, we expect students to care for and engage with their communities. Please share a specific instance in which you challenged yourself or stepped out of your comfort zone in order to be an advocate for your community (for example, your family, friend group, high school, or town). Please provide an example that illustrates a facet of yourself that we would not find anywhere else in your application.
COVID-19 Response
Fall 2023 applicants will have the opportunity to tell us more about how COVID-19 has impacted their lives. Please feel free to use this section to discuss this topic as opposed to your essay. This response is optional.
Additional Information
Is there something you'd like to tell us that just doesn't seem to fit anywhere else? Perhaps you'd like to expand on one of your co-curricular involvements or let us know about an extenuating circumstance that impacted your academic performance. Whatever the case may be, please feel free to tell us in this optional section.