Writing for the Common Application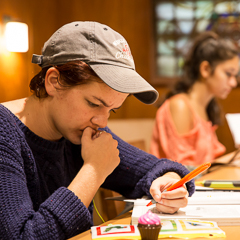 Required Writing
Essay
The essay—part of the Common Application—is the best opportunity we have to get to know you as a unique individual.
And, we want to get to know you. So, tell us! Write in your own unique voice. Help us understand who you are, what moves you, and why we're a good fit for each other.
We want to learn some other things, too, such as how you express yourself through the written medium, and how you approach and answer the question you choose.
Remember, this is your voice! Our expectation is that your writing will be your original work in your own words. Make sure that any tools or help you receive are in service to your unique voice, not in place of it. A good rule of thumb is–if the words are not yours, revise the revision!
At Fordham, we consider communication skills a critical part of your education, and we want to make sure you're ready to engage with a community of scholars.
Optional Writing
We also give you additional opportunities to tell us more about yourself in optional writing sections in the Common Application. If you do not choose to use these sections, you will not be penalized in the application process–but this is a great opportunity to share aspects of your experience that we may not see in other components of your application.
Short Response
Your choice of one of three short response questions (300 words max) is meant to help you reflect on your personal growth and community impact. How will you continue to grow and impact our communities at Fordham and in New York City?
A. At Fordham, we expect students to care for and engage with their communities and be active citizens for positive change. Please share an experience you had that caused you to develop a new perspective, change your point of view, and/or empower you to take an action or be courageous. Your response should include examples of your personal growth (e.g., what did you learn, did your point of view change, did you develop new skills or strengths?).
B. Fordham, as a Jesuit university, recognizes the dignity, uniqueness and potential of each person. A Fordham education is student-centered and rooted in close collaboration among students, faculty, and staff. Describe how you would contribute to our campus community as an actively engaged learner and leader. Specifically draw on your personal story, identity, experiences, strengths, and perspectives.
C. Our motto is "New York is my campus, Fordham is my school." New York City is a diverse and global city that provides Fordham students with a special kind of educational experience, full of both challenge and opportunity. What has prepared you to embrace the unique opportunity of living and learning in New York City?
COVID-19 Response
Fall 2024 applicants will have the opportunity to tell us more about how COVID-19 has impacted their lives. Please feel free to use this section to discuss this topic as opposed to your essay. This response is optional.
Additional Information
Is there something you'd like to tell us that just doesn't seem to fit anywhere else? Perhaps you'd like to expand on one of your co-curricular involvements or let us know about an extenuating circumstance that impacted your academic performance. Whatever the case may be, please feel free to tell us in this optional section.
Note: There are a number of University committees involved in the application review process (e.g., honors programs, HEOP, etc.). Your application and essay may be reviewed by members of our community who are not part of our admission team. Please know that your personal information remains confidential with these trusted University partners.