Degree Options: Major, Minor
Locations: Rose Hill
Visit the Physics and Engineering Physics Department
Understand the principles of matter and motion—and then build things.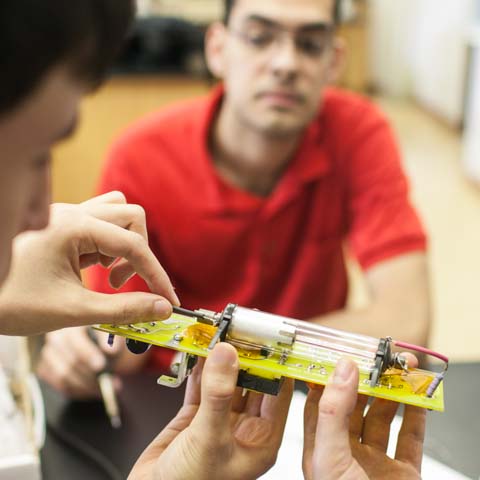 Master the principles of matter and motion in the engineering physics department at Fordham—and then build something. We designed this program to prepare you for a career or graduate study in mechanical, electrical, or civil engineering in a variety of industries.
You'll study a broad range of fundamental engineering and physics principles in classes, the teaching lab, research projects, and internships. You can take the classical path to a degree in engineering physics—four years at Fordham—or pursue a five-year double degree in physics and engineering, including two years at Columbia or Case Western.
You'll graduate ready to take the next step towards a career in architecture, business, engineering, finance, law, medicine, secondary education, and other fields.
You'll learn more than engineering physics here. You'll also study philosophy, theology, history, literature, languages, science, and the performing arts through Fordham's common core curriculum, the centerpiece of our liberal arts education.
We want you to excel in your field—and as a human being.
The engineering physics major is available at Fordham College at Rose Hill.

The engineering physics has three concentrations:

Mechanical
Biomedical
Electrical

We also have a 3-2 Cooperative Program In Engineering that leads to a double degree in physics and engineering:

5-year program
3 years of study in physics or chemistry at Fordham
2 years of study in engineering at Columbia University or Case Western Reserve University

Facilities and Research Opportunities

In the Engineering Physics Teaching Laboratory, you use high-tech equipment to explore the physics of materials and simulate real world automated assembly processes. Equipment includes:

Material testing setups
Fluid dynamics experimental workstation
Programmable assembly line
LabView, MATLAB, Mathematica software

Youll use our computational resources for modeling and simulation of mechanical, electrical, and environmental engineering and physics phenomena and processes.

We have active research programs in nuclear?and particle physics (theory) and in theoretical condensed matter (mesoscopic and nanoscale) physics. Our experimental research focuses on:

Materials science
Polymer physics
Low-temperature physics
Liquid crystals
Medical physics
Laser optics

Other smart, creative, research projects:

Biomedical engineering
Building a chess-playing robot
Spectroscopic detection of melanoma
Radar and visual data fusion for tracking bullets in flight

Want to connect, network, learn and compete?

We have an active physics club that arranges annual tours to area research labs.
Our tutoring center can help you with introductory physics courses.
And don't forget your mitt. We go head-to-head with the chemistry department in an annual softball game.

Study Abroad

Take your coursework global with a study abroad program. Fordham has connections with more than 150 programs in universities all over the world, including Germany, China, Turkey, Argentina, and the Gabelli London satellite campus.

Electricity and Magnetism
Fluid Mechanics
Nuclear Physics
Introduction to Inventions and Patents
Engineering Experimentation
Laser Theory and Design
Math Methods
Quantum Mechanics
Introduction to Electrical Engineering
Undergraduate Research
Independent Study

Our engineering graduates pursue careers or graduate study in:

Civil Engineering
Mechanical Engineering
Electrical Engineering
Optical Engineering

They work in many industries, including:

Architecture
Business
Engineering
Finance
Law
Medicine
Secondary Education

The companies who hire them include:

Northrup Grumman
3M Health Information Systems
Con Edison
Photonics Industries International
Thor Laboratories
Environmental Operating Solutions
Inductotherm
Mottola Rini Engineering
Montefiore Medical Center
New York City Dept. of Housing Preservation and Development

They pursue masters degrees and PhDs at schools, including:

Columbia University
Cornell University
Virginia Institute of Technology
Stevens Institute of Technology
University of Southern California
University of Connecticut
Georgia Institute of Technology
New York University
University of California San Diego

We will connect you with you with our powerful (and Fordham-loyal) alumni network. They want to see you succeed as they have.
Learn More About the Engineering Physics Degree