Phi Beta Kappa (Liberal Arts Society) at Rose Hill
Liberal Arts Honor Society
Phi Beta Kappa is the oldest, largest, and most widely recognized academic honor society in America. Founded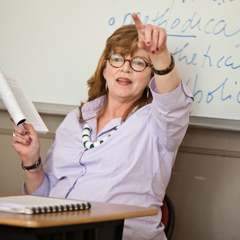 in 1776 by a group of students at the College of William and Mary in Virginia, Phi Beta Kappa has grown to include chapters at nearly every major college and university in the country. The society encourages intellectual excellence in the broad range of the liberal arts. Phi Beta Kappa membership has been founded on American essayist Ralph Waldo Emerson's belief that the "American scholar" is one who "takes unto themselves all the contributions of the past, all the hopes of the future...a university of knowledge."
Fordham University's chapter of Phi Beta Kappa (Tau of New York) was established in 1962. Each May, it installs new members from among the most academically distinguished upperclass students.

Phi Beta Kappa candidates must:
Be a junior or senior who has completed at least four full semesters at Fordham College at Rose Hill.
Have compiled outstanding academic records.
Exhibit excellence in a broad liberal arts curriculum that includes English, history, philosophy or theology, mathematics, a foreign language, and the social sciences.
Students with outstanding grade point indexes are screened for membership. The society limits its ranks to those who have also exhibited a wide range of intellectual interests. Accordingly, selection is contingent upon the variety of the student's course work outside the major; evidence of intellectual maturity; and the quality of evaluative remarks written by professors.