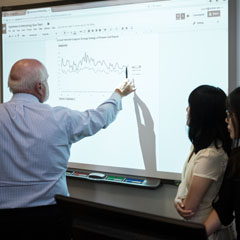 Academic training vs. on-the-job experience.
At the Gabelli School, we say, why not both?
You could sit in a lecture hall and learn about the science of customer relationship management. Will that alone teach you how to incorporate it into a marketing plan and sell it to your CFO?
You could work for years mining data for a Fortune 500 company. Will that job ever give you the chance to break down marketing theory with your peers?
Our Master of Science in Marketing Intelligence (MSMI) adds an experiential learning component to a challenging slate of coursework.