Real Estate Property Management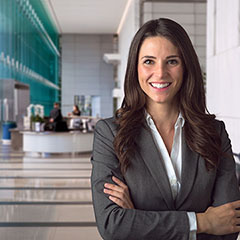 Learn the core competencies and specialized skills to manage and optimize day-to-day operations, perform long-term planning consistent with ownership goals, and ultimately, maximize the value of income-producing multifamily, office and mixed-use properties. Through the study of established management practices with real-world applications, this program supports career advancement for both current and up-and-coming property and facility managers. Subject areas include management proposals and plans, market analysis, leases, operating and capital budgets, financial management, building systems, health and safety issues, insurance considerations, local laws and codes, capital improvement projects, and more.
View and Register for Real Estate Property Management Courses
The Professional Certificate in Real Estate Property Management credential is issued to students who successfully complete four 6-week courses. Students choose between REPM-0130 and REPM-0030 for their fourth course.
Four Required Courses:
Principles of Real Estate Property Management REPM-0110
FALL 2023
Sec. 1: Online (self-paced). Sep. 19-Oct. 24 (6 sessions). Fusco
Sec. 2: Online (self-paced). Nov. 7-Dec. 12 (6 sessions). Tockstein
Through a step-by-step examination of the specialized profession of real estate property management, gain a comprehensive introduction to the principles, practices and skills needed to manage multifamily, office and mixed-used properties. Topics covered include ownership structures; ownership investment strategies and goals; real estate economics; real estate valuation; property types; the Management Plan; the Management Agreement; management organizational structures; ownership obligations; management responsibilities; management fees; operating procedures; repositioning for value creation; staffing, training and supervision; risk management and insurance; leadership; communication; ethics; and an introduction to financial, physical and legal management considerations.
Property Budgets and Financial Management REPM-0120
FALL 2023
Sec. 1: Online (self-paced). Nov. 7-Dec. 12 (6 sessions).
Learn how to effectively develop and manage budgets for commercial and multifamily properties using standard accounting principles and practices. Topics include lease abstracts; rent rolls; security deposits; vacancy and loss factors; cash flow income and expense statements; record-keeping; accrual vs cash accounting; financial statements; annual reports; variance analysis; financial audits; operating budgets; capital budgets; replacement reserves; depreciation; property taxes; and ending cash balances.
Residential Property Marketing, Leasing and Tenant Relations REPM-0130
FALL 2023
Sec. 1: Online (self-paced). Nov. 7-Dec. 12 (6 sessions). LoGuidice
Learn how to perform regional, neighborhood and subject property analysis for the purposes of developing a marketing and leasing program for a residential property management plan. Explore ways to attract prospective tenants and, once signed, retain those tenants. Topics include understanding the subject property's marketable features; identifying a target market for that particular property; choosing a medium or platform; generating leads; market segmentation; marketing budgets; leasing strategies; qualifying prospective tenants; tenant relations; tenant retention and improving occupancy rates.
Commercial Real Estate Leases REPM-0030
FALL 2023
Sec. 1: Online (self-paced). Nov. 7-Dec. 12 (6 sessions). Stolatis
Improve your ability to review, understand and evaluate the terms and conditions of commercial real estate leases from a landlord and a tenant perspective. This course provides a step-by-step explanation of the essential elements of commonly used office and retail lease forms and the motivations of the parties to a lease. Topics include lease types including full-service, triple-net, and modified-gross leases; expenses and additional rent clauses including electric rent inclusion, operating expenses, common area maintenance (CAM), and real estate taxes; the tenant's rights of first offer, first refusal, renewal, and termination; exit strategies including assignment and sublease; property management role in showing space, negotiating operating clauses, managing guarantees and security deposits and responding to lease violations.
Fundamentals of Building Systems REPM-0040
FALL 2023
Sec. 1: Online (self-paced). Sep. 19-Oct. 24 (6 sessions). Redmond
This course provides a technical baseline - a working knowledge - of the building systems and infrastructure commonly found in commercial office and large residential buildings. Topics include heating, ventilation and air conditioning; electrical; lighting; plumbing; fire alarm; fire protection and vertical transportation.
Transfer Credit Policy
Students who have recently completed comparable nondegree courses at an accredited two- or four-year college or university with a grade of B or higher may request approval to apply those courses toward the completion of a professional certificate at the Fordham PCS Real Estate Institute. Students are encouraged to seek approval from the program director prior to the start of their first course at Fordham. With prior approval, students may transfer one course toward a four-course professional certificate at the Fordham Real Estate Institute.
Students may enroll in individual courses at the Fordham Real Estate Institute without pursuing a certificate.