Degree Options: Major
Locations: Rose Hill
Visit the Finance Department
There's no better place to study finance than in New York City, capital of the financial world.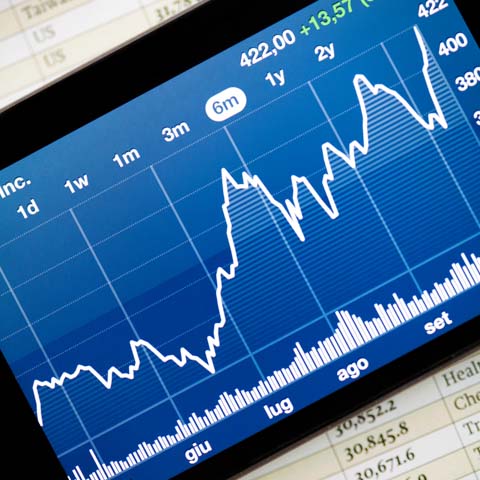 Finance is one of the most high-demand programs at Fordham's Gabelli School of Business. And no wonder. Where better to study finance than at a highly respected business school with strong connections to the most prominent financial services firms in New York City, the global financial capital?
We emphasize analytical techniques and the understanding of the economic environment influencing day-to-day and long-term financial decisions.
The department offers a range of intensive classes, special programs, and stellar internships—and a solid foundation in the humanities. The result: a premier education that prepares you to take a leading role in finance—and to have a fulfilling life outside of work.
Finance is the beating heart of New York City, but a Jesuit education is the soul of the Fordham experience. When you study finance with us, you learn more than the value of a dollar. You learn values.
You take classes with business leaders—and with moral thinkers. Beyond finance, you'll study philosophy, theology, history, mathematics, languages, science, and other performing arts through Fordham's common core curriculum, the centerpiece of our liberal arts education.
The Gabelli School of Business is considered one of the top business schools in the U.S. for a reason. (For a lot of reasons.) Our dual core curriculum—half business, half liberal arts—makes Fordham business graduates unique: knowledgeable about global commerce, but also keenly aware of the human factor in every deal. We want you to excel in your field—and as a human being.
Our finance curriculum prepares you for a future in:

Corporate finance: investment and financing decisions of business firms and nonprofit organizations
Investment management: evaluation of securities and portfolio management
Financial institutions: commercial banks, insurance companies, and other institutions

We also offer two concentrations:

Value investing, a methodology for determining the intrinsic value of a company
Alternative investments, including private equity, venture capital, hard assets, commodities, real estate, and hedge funds

Two major highlights for the program are:

Student Managed Investment Fund: Manage a real $1 million global portfolio in a course taught by finance professor James Kelly. You and your classmates invest $1 million of Fordham's endowment in a variety of domestic and international assets. In recent years, student returns on investment have beat the benchmarks in stocks, bonds, and commodities.
Finance Scholars: A select group of 30 high-achieving juniors and seniors interested in Wall Street careers receive one-on-one guidance from finance mentor Lisa Henkoff, including:

Resume reviews and mock interviews
Networking help with financial professionals and Fordham alumni

More than 75 percent of our Finance Scholars secure front-office internships at major banks every year.

Beta Alpha Psi: The national honor society for financial services students is limited to juniors and seniors with distinguished academic records.
New York Society of Security Analysts student membership, featuring access to its SEMI career-development program and its research program

Internships

Internships are essential to finance majors. Most are designed to lead to full-time jobs—and some are the only way to land the most competitive positions.

More than 75 percent of Gabelli graduates who got job offers before graduation reported that their internship led directly to the full-time spot.

That's why the Finance department has its own dedicated finance pre-professional adviser, Lisa Henkoff, who connects you with world-class internships at top companies, including:

Goldman Sachs
Bank of America/Merrill Lynch
JP Morgan
GE Capital Risk
KPMG
Ernst & Young

Study Abroad

Finance is a globe-spanning industry. Take your education abroad. Fordham has connections with more than 150 programs in universities all over the world, including Germany, China, Turkey, Argentina, and the Gabelli London satellite campus.

Investment and Security Analysis
Global Financial Statement Analysis
Financial Modeling
Behavioral Finance
Advanced Topics in Value Investing
Private Equity
Options and Futures Markets
Global Investments
Fixed Income Analysis

You graduate ready to take a role in the highly competitive field of finance here in New York and in global financial centers such as London and Hong Kong.

Our Personal and Professional Development Center staff will help you figure out the right route for you. We'll shape your accomplishments so far—academic experience, internships, study abroad—into a portfolio that will catch the attention of companies from global giants to local landmarks.

You also get access to our powerful (and Fordham-loyal) network of alumni, who want to see you succeed as they have.