#15 Best Undergraduate Finance Programs
U.S. News & World Report Best Colleges 2022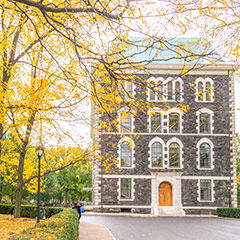 There is no better place in the world to study finance than New York City. There is no finance curriculum in New York quite like Fordham's.
Our students can complete a full BS in finance, or make finance the focus of a business administration degree. Students also can earn concentrations in areas of finance that many other undergraduate schools do not offer: alternative investments, value investing, and fintech.
Students can pursue finance at the Rose Hill campus as a:
Major
Primary concentration
Secondary concentration in finance
Secondary concentration in fintech
Secondary concentration in alternative investments
Secondary concentration in value investing
Students can pursue finance at the Lincoln Center campus as a:
Primary concentration (in Global Finance and Business Economics)
Secondary concentration in finance (for students not pursuing primary concentration in Global Finance and Business Economics)
Secondary concentration in fintech
Secondary concentration in alternative investments
Secondary concentration in value investing
Finance courses include:
Portfolio Management
Financial Modeling
Global Investments
Futures and Options Markets
Hedge Funds
Real Estate Finance
Mergers and Acquisitions
Venture Capital
Finance students and alumni hold internships and jobs at:
Bank of America Merrill Lynch
Sumitomo Mitsui Banking Corporation