Degree Options: Major Only
Locations: Rose Hill
Visit the General Science Program
Delve into an interdisciplinary exploration of scientific fields.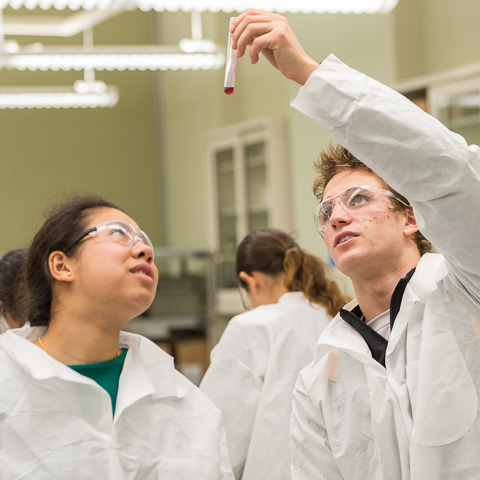 You're fascinated by science—the process, the potential, the questions, and the answers. Your curiosity takes you beyond one scientific discipline. As a general science major at Fordham, you'll study a range of fields—and in the process build a solid foundational knowledge that will help you pursue a science-related career in education, health, law, writing and editing, technology, or sales and marketing.
Our program taps into the scientific expertise within multiple departments at Fordham, including biology, chemistry, computer and information sciences, mathematics, and physics. Once you master the basics of these fields, you'll gain more in-depth knowledge in upper-level electives. You learn from faculty members of each contributing department.
You'll learn more than just science here. You'll also study philosophy, theology, history, literature, languages, ethics, and the performing arts through Fordham's common core curriculum, the centerpiece of our liberal arts education.
We want you to excel in your field—and as a human being.
You take 13 courses as a general science major—two in each discipline, and three upper-level electives. All courses are selected from contributing departments:

Biological Sciences
Chemistry
Computer and Information Science
Mathematics
Physics

Interested in graduate school in one of these disciplines? Then you'll need to major in one of these disciplines to meet the prerequisites to enter a master's or PhD program.

Lab learning is a core component of your coursework. What's more, Fordham faculty members are always conducting scientific research both on campus and at renowned institutions in New York City and beyond.

Study Abroad

Take your coursework global with a study abroad program. Fordham has connections with more than 150 programs in universities all over the world, including Germany, China, Turkey, Argentina, and the Gabelli London satellite campus.

Human Anatomy
Human Physiology
Genetics
Organic Chemistry
Biochemistry
Applied Statistics
Discrete Structures
Computer Science

A degree in general science prepares students for a range of fields, including:

Healing professions: medicine, dentistry, physical therapy, nursing, physician assistant, optometry, pharmacy, and public health
Technical sales and marketing: pharmaceuticals, medical and scientific equipment
Health care management: hospital/nursing home administration, HMO management, and geriatric services
Science teaching: middle school and high school teaching
Laboratory technical work or management: pharmaceutical, medical, biotechnical, quality control , and consumer products research labs
Science-related business, social service, or law

We will connect you with you with our powerful (and Fordham-loyal) alumni network. They want to see you succeed as they have.