Global Markets Fellowships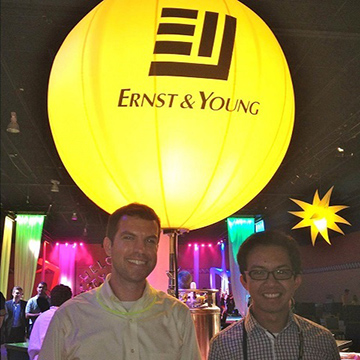 Ramon Fuentabella (IPED '13) started with Ernst & Young as an intern during his summer semester with IPED. He received a job offer from E&Y after the internship and has been working with the transfer pricing group since 2013.
The Global Markets Assistantship is designed to attract into the IPED Program highly qualified applicants who seek careers, usually in the private sector, in the analysis of international commercial and financial markets. To be considered for a Global Markets Assistantship an applicant must intend to specialize in either International Banking and Finance or in International and Development Economics. We give preference to candidates on the following basis:
Previous relevant professional experience in International Business
Professional proficiency in English and another language widely used in international business
Strong cross-cultural skills
These fellowships include a full tuition scholarship combined with a generous stipend. Recipients must be full-time students. As part of their assistantship duties, Global Markets Assistants serve on the editorial board of Fordham IPED's Emerging Markets Watch.
Global Markets Assistantship recipients follow the standard MA Program, but are expected to specialize in either International Banking and Finance or in International and Development Economics. During the summer after their first year of study, these students are strongly encouraged to do an internship in finance or in management consulting. If interning in New York City, students can also complete the requirements for the Advanced Certificate in Emerging Markets and Country Risk Analysis. In addition, they are also free to participate in our Emerging Markets: South Africa study tour in August. Students interested in careers as financial analysts are urged to prepare for and take the examination for designation as a Chartered Financial Analyst (CFA). Fordham IPED students frequently get scholarships to help pay for the cost of preparing for and taking the CFA examination.
Applicants for a Global Markets Assistantship must submit a formal application including a statement of purpose, three letters of recommendation, general aptitude scores on the Graduate Record Exam (GRE) and transcripts of previous undergraduate and graduate course works. International students must also take the Test of English as a Foreign Language (TOEFL). For Global Markets Assistantship applicants, your letters of recommendation should document your professional proficiency in a modern language besides English, your cross-cultural skills, and your professional work ethic. Finally your statement of purpose should give some tentative plans regarding your intended career path.
Additional information can be obtained by contacting the IPED office at:
Fordham | IPED
The Graduate Program in International Political Economy and Development
Fordham University
Dealy Hall, Room E-517, Fordham University
441 E. Fordham Road
Bronx, New York 10458
USA
Tel: 718-817-4064
Fax: 718-817-4565
Email: [email protected]
IPED's Global Markets Assistantship honors the memory of Benedetto de Goes, SJ. Goes was a Jesuit Brother who traversed the Silk Road, that ancient commercial link between East and West, in the early 17th century. His travels established the fact that the Cathay that Macro Polo visited in the 13th century was the same China that Portuguese explorers and merchants had reached by sea in the 16th century. The Silk Road dates from the Roman Empire and the Han Dynasty and is an example of how international commerce can bring diverse cultures together in mutually beneficial enterprises.