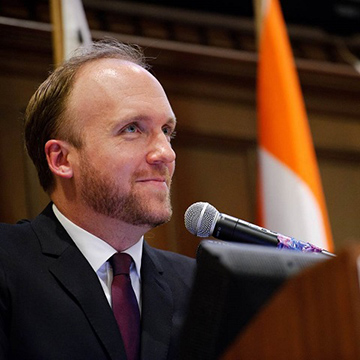 Matthew McGarry (IPED '04) was an Arrupe Fellow who, after graduation, has served with Catholic Relief Services in Zimbabwe, the Sudan, Pakistan, Afghanistan, and now the West Bank, Jerusalem and Gaza. In 2011, he was awarded the Swanstrom-Baerwald award for the service of faith through the promotion of international peace and development.
Arrupe Fellowships are designed to attract into the IPED Program highly qualified applicants who have a strong interest in pursuing a career with a non-profit focused on international relief and development. To be considered for an Arrupe Fellowship an applicant must have:
At least one and preferably two years of work experience in a developing country. Preferential consideration is given to applicants who have work experience in a developing country as a volunteer with the Jesuit Volunteers International, Jesuit Refugee Services, the US Peace Corps, or other similar organizations.
Professional proficiency in French, Spanish, Arabic, or the ability to obtain professional proficiency given a summer language immersion experience. French is preferred.
Indicate in their statement of purpose their willingness to apply and, if selected, accept up to a year of post-graduate International Development Fellowship with Catholic Relief Services (CRS).
Awardees are also expected to complete our sequence of Project Management courses in Project Accounting, Project Design, Project Proposal Development and Project Assessment.
Arrupe Fellowships are awarded solely on the basis of merit without regard to citizenship or religious affiliation. These fellowships include a full tuition scholarship combined with a generous stipend. Under the IPED MA Program, Arrupe Fellows are expected to specialize in international development studies with a focus on project management. In addition to academic training, Arrupe Fellows also receive practical training. During the academic year, fellows normally work for a specific number of hours at the United Nations Development Programme (UNDP). During the summer after their first year of studies, fellows receive an additional stipend to cover the cost of an overseas summer field placement in Africa, Asia, or Latin America. Normally summer field assignments are done in coordination with UNDP and are used to document the best practices of community-based initiatives in sustainable development.
Arrupe Fellows who are accepted by Catholic Relief Services (CRS) into their post-graduate International Development Fellows Program will gain up to an additional year of practical international experience as a program assistant in more than 80 developing countries. Building on their broader analytical training in the IPED Program, International Development fellows will be exposed to various practical aspects of project management including proposal writing, budgeting, working with donors, working with counterparts, and monitoring and evaluation, among others. Some fellows with sufficient background in finance and accounting may be asked to assist in auditing several CRS projects in various parts of the world. The combination of IPED's broader analytical training with CRS' practical training should equip a student for employment in the non-profit sector. For example, many of the International Development fellows become full-time employees of Catholic Relief Services at the conclusion of their post-graduate fellowship.
Visit Catholic Relief Services' website for additional information about their International Development Fellows Program.
To be considered for an Arrupe Fellowship, you must submit a formal application including a statement of purpose, three letters of recommendation, general aptitude scores on the Graduate Record Exam (GRE) and transcripts of previous undergraduate and graduate course works. Foreign students must also take the Test of English as a Foreign Language (TOEFL). For Arrupe Fellowship applicants, one of the letters of recommendation must document your language ability in any of the following: Spanish, French, or Arabic. It must also affirm your strong cross-cultural skills. If you are a Peace Corps Volunteer, this letter of recommendation should come from your country director. If you are a Jesuit Volunteer International (JVI) this letter of recommendation should come from the director of JVI or your country director. Finally your statement of purpose must state your willingness to pursue a post-graduate International Development Fellowship with Catholic Relief Services. Applicants for Arrupe Fellowships cannot be considered for Public Service Assistantships or Global Markets Assistantships.
Additional information can be obtained by contacting the IPED office at:
Fordham |IPED
The Graduate Program in International Political Economy and Development
Fordham University
Dealy Hall, Room E-517
441 E. Fordham Road
Bronx, New York 10458
USA
Tel: 718-817-4064
Fax: 718-817-4565
Email: [email protected]
The Arrupe Fellowship honors the memory of the Very Reverend Pedro Arrupe, SJ. Father Arrupe was a Spanish Jesuit who lived through the atomic bombing of Hiroshima. He also led the Jesuit Order during the difficult years of adjustment and renewal following the Second Vatican Council. Father Arrupe had a deep love and concern for those suffering from injustice in the world. He was particularly concerned about the plight of refugees.