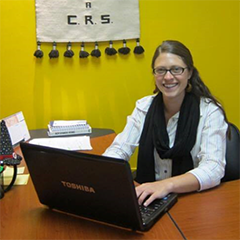 Jerica Youngken-Itterly (IPED '14) was a Salesian Volunteer in Bolivia prior to joining IPED. After graduation, she served as a fellow for Catholic relief Services in Sierra Leone.
The Salesian Fellowship Program at Fordham University is a graduate fellowship program that offers financial assistance to applicants who have successfully completed at least one year of international service in the developing world with a faith based organization and who wish to earn the Master's degree in International Political Economy and Development. Eligible faith based organizations include the Salesian Volunteers, Jesuit Volunteer Corps, Maryknoll Lay Missionaries, Mennonite Central Committee's Serving and Learning Together (SALT) Program, Lutheran Global Volunteer, and similar faith based organizations. In addition to their academic program, Salesian Fellows will gain valuable professional experience by interning with Salesian Missions where they will work as assistant project managers. While interning they may have the opportunity to assist in the design, monitoring and evaluation of youth development projects around the world.
At a minimum, Fordham Salesian Fellows will receive a full tuition scholarship plus a modest stipend.
To be considered for a Salesian Fellowships at Fordham, applicants must:
Complete at least one year of international service with a faith based organization prior to enrollment.
Submit a formal application including a statement of purpose, three letters of recommendation, general aptitude scores on the Graduate Record Exam (GRE) and transcripts of previous undergraduate and graduate course work.
Indicate in your statement of purpose your willingness to intern with the Salesian Missions as an assistant project manager.
One of your letters of recommendation must come from the organization that sponsored your international service.
Previous experience regarding community and youth development will be highly valued. Foreign language proficiency, especially in French, Spanish and Arabic with French preferred, is also highly valued.
Applicants who have the appropriate language skills and who wish to pursue a career overseas in international humanitarian assistance, should also consider applying for an Arrupe Fellowship. Other Salesian applicants, who have a strong interest in public service with the US government, might also want to apply for a Public Service Assistantship. Finally, applicants interested in pursuing private sector careers might also want to apply for a Global Market Assistantship.
Additional information can be obtained by contacting the IPED Office at:
Fordham | IPED
The Graduate Program in International Political Economy and Development
Fordham University
Dealy Hall, Room E-517
441 E. Fordham Road
Bronx, New York 10458
USA
Tel: 718-817-4064
Fax: 718-817-4565
Email: [email protected]