Public Service Assistantships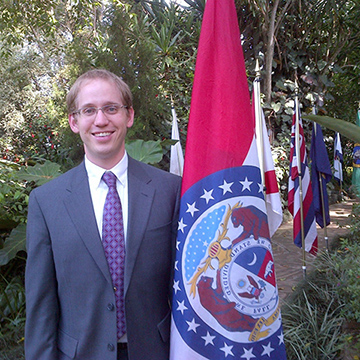 Brian Dutoi (IPED '14) currently works at the USDA Foreign Agricultural Service (FAS) as International Agricultural Program Specialist. During his time in IPED, he interned at the FAS country office in Kenya.
Public Service Assistantships are designed to attract into the IPED Program highly qualified applicants who have a strong interest in pursuing a career in public service with the United States Government. To be considered for a Public Service Assistantship you must:
Be a U.S. citizen,




Indicate in your statement of purpose that upon graduation you will apply for a United States Presidential Management Fellowship (PMF) and/or a Fulbright-Clinton Public Policy Fellowship (fellows returning to active military service are exempt from this requirement), and




Be willing to take a sufficient number of economics courses (seven in total) so that you can be rated as an international economist for employment with the US government.
In addition, awardees are expected to complete our sequence of Project Management courses in Project Accounting, Project Design, Project Proposal Development, and Project Monitoring and Evaluation.
Preferential consideration is given to applicants who have successfully served for two years as a volunteer with the U.S. Peace Corps, the Jesuit Volunteers International, or other similar organizations. Preferential consideration is also given to applicants who have served with the United States military especially those who have dealt with civilian affairs overseas. Recipients must be full-time students. An important purpose of these assistantships is to place US citizens, who have a greater sensitivity and understanding of other cultures, into positions of leadership in the management of US international programs.
These assistantships include a generous stipend combined with a full tuition scholarship. Awardees are expected to do a summer internship with the federal government, preferably overseas at a US Embassy. Included with this assistantship is an additional stipend to cover the travel and living expenses of a summer internship with the US Federal Government.
Public Service Awardees who are accepted into the United States Presidential Management Fellowship (PMF) will be part of a special program designed to recruit into the federal service the best and the brightest of America's graduate schools. The PMF program provides fast track placements that within two years can be converted into permanent federal civil service positions. Through this program, IPED students have obtained leadership positions in the Departments of Agriculture, Commerce, Defense, Justice, State, and Treasury usually with agencies involved in international economic relations. More information about the PMF Program can be obtained from their website.
Public Service Awardees who are accepted into the Fulbright Public Policy Fellowship program will serve in foreign governments, assuming positions that support senior level officials, while also pursuing a related academic project. Fellows may be responsible for a range of activities including policy and budget development and analysis, program monitoring and evaluation, drafting speeches and correspondence, record keeping and note taking, and general project management, among others. More information about the Fulbright Clinton Public Policy Program can be obtained from their website.
To be considered for a Public Service Assistantship, you must submit a formal application including a statement of purpose, three letters of recommendation, general aptitude scores on the Graduate Record Exam (GRE), and transcripts of previous undergraduate and graduate course works. Your statement of purpose must state your willingness to pursue the post-graduate US Presidential Management Fellowship Program or a Fulbright Public Policy Fellowship or a similar US federal program. Applicants applying for a Public Service Assistantship cannot be considered for an Arrupe Fellowship or Global Markets Assistantships.
Additional information can be obtained by contacting the IPED office at:
Fordham | IPED
The Graduate Program in International Political Economy and Development
Fordham University
Dealy Hall, Room E-517
441 E. Fordham Road
Bronx, New York 10458
USA
Tel: 718-817-4064
Fax: 718-817-4565
Email: [email protected]
IPED's Public Service Assistantship honors the memory of the Reverend John Courtney Murray, SJ. Father Murray, an American Jesuit, has been called the most important theologian produced by the US Catholic Church. He made significant contributions to American political philosophy and the moral evaluation of public policy in a democratic and pluralistic society.