Graduate IPED International Students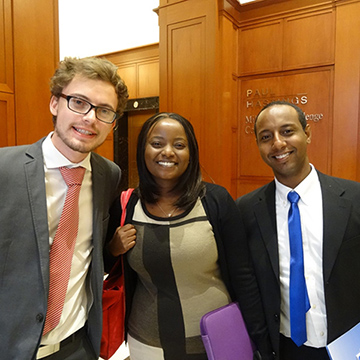 Fordham University encourages applications from international students. Students are recommended to apply early, to allow extra time for international mail and preparation of visa documents. The Office of Graduate Admissions is happy to answer any questions about the application process. The Office for International Services should be contacted with questions regarding visas and immigration. Additionally, the Office for International Services provides pre-arrival information to help prepare you for your trip, and orientation upon arrival to explain immigration matters and assist in adjustment to the United States.
All official transcripts from previously attended post-secondary institutions must be submitted in English, or with a certified English translation. Non-English transcripts and credentials should be submitted to World Education Services for evaluation (WES, PO Box 745, Old Chelsea Station, New York, NY 10011; Telephone: 212-966-6311). References from non-English speaking professors do not need to be made on the forms provided. The references, however, must be on official letterhead, accompanied by a certified translation. The non-refundable application fee is required of all international students.
English Proficiency
International applicants whose native language is not English are required to complete and submit to GSAS prior to matriculation their official scores from the
Test of English as a Foreign Language (TOEFL)
. GSAS will also consider a student's
International English Language Testing System (IELTS)—Cambridge English Proficiency Level
language testing results.
Official TOEFL or IELTS scores should be sent directly by the testing service to the Office of Graduate Admissions, Fordham University, Graduate School of Arts and Sciences – Code # 2259. Please consult the English Proficiency web page for additional information.
Normally applicants with TOEFL scores below 100 are not admitted into the IPED Program. When exceptions are made these applicants are required to attend an English review class in August. Information on this class will be sent with the certificate of eligibility. The cost of the class is not included in the estimate provided on the affidavit.
Immigration Information and Immunization Requirements
Student Visa and Exchange Visitor Visa
In accordance with the regulations of the United States Department of Justice and its Immigration and Naturalization Service, international students must obtain an appropriate visa for study in the United States. For most international students this will be the F-1 student visa. With proper documentation, Fordham's Office of International Students can issue the I-20 certificate of eligibility, used to obtain the F-1 student visa at a U.S. Consulate or Embassy abroad. Some students will be issued an IAP-66 form to apply for a J-1 exchange visitor visa. Students must provide verification of adequate financial resources to cover education and living expenses for at least the first year. Proper documentation includes the notarized affidavit of support form, submitted with supporting documentation, such as an official bank letter, employer's letter stating the salary of the sponsor, or copies of financial awards. An I-20 or IAP-66 cannot be issued without this information. All information must be submitted in the original; absolutely no faxes or copies will be accepted. Students residing outside the United States at the time of application should keep copies or another set of original documents to present upon visa application. Students already in the United States should contact the Office of International Students about transferring student status to Fordham or changing status.
Immunization Requirement
In addition, proof of immunization against measles, mumps and Rubella must be provided upon arrival at Fordham University.
Financial Documentation Affidavit of Support Form
Additional information as well as the forms needed for financial documentation and affidavit of support can be obtained from the website of the International Student Advisor. For additional assistance please contact:
Office for International Services
Physical Location:
Fordham Building 540
540 E. 191st st.
Bronx, NY 10458
Mailing Address:
441 E. Fordham Rd.
OIS, Fordham Building 540
Bronx, NY 10458
Phone: 718-817-3145
Fax: 718-817-5573