Peace Corps Coverdell Fellowships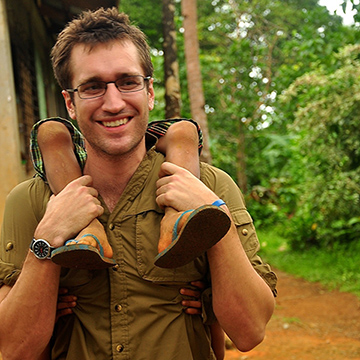 Sean Cox (IPED '13) is RPCV El Salvador. Through the Peace Corps Coverdell Fellowship, Sean pursued the MA IPED and MA Economics degrees at Fordham. After IPED, he was a Fulbright Clinton Public Policy Fellow and was placed in Guatemala. Currently, Sean works at the US Foreign Agricultural Service as a Foreign Service Officer.
The Peace Corps Coverdell Fellows Program at Fordham University is a graduate fellowship program that offers financial assistance to Returned Peace Corps Volunteers (RPCV) who wish to earn a Master's degree in International Political Economy and Development (IPED). In addition to their academic program, Peace Corps fellows will gain valuable on-the-job training in project management while interning with a community development organization in an underserved US community.
Fordham Peace Corps Coverdell Fellows may be selected to intern as an assistant financial project manager with the University Neighborhood Housing Program (UNHP). UNHP is a federally-designated local community financial development institution dedicated to the creation, preservation, and financing of affordable housing in the Bronx for immigrant and other low-income families. (More information about UNHP can be found on their website, blog)
Our fellows may also be selected to intern as an assistant project manager with the Fordham Road Business Improvement District (Fordham BID). Fordham BID is a community organization primarily made up of local retailers who wish to promote business development and improve the quality of life along Fordham Road, a major retail street serving various immigrant and low-income communities in the Bronx. Fordham BID, established by local New York City law, is self-funded by local property owners and is overseen by the City's Department of Small Business Services. According to former Mayor Michael Bloomberg, "BIDs are a proven example of how public/private partnerships can promote economic development." More information about the Fordham BID can be found on their website.
Finally, some fellows are selected to intern as an assistant project manager with Fordham Bedford Housing Corporation (FBHC). Tenant and community leaders formed FBHC in 1980 to prevent housing abandonment in many parts of the Bronx. Today, FBHC oversees the management of more than 110 apartment buildings with nearly 3500 units. FBHC is a community leader in providing housing that is safe, sound, and affordable. (More information about FBHC can be found on their website)
At a minimum, Fordham Peace Corps fellows will receive a full tuition scholarship.
To be considered for the Peace Corps Coverdell fellows Program at Fordham, applicants must:
Be a Returned Peace Corps Volunteer who has satisfactorily completed his or her Peace Corps service;
Submit a formal application including a statement of purpose, three letters of recommendation, general aptitude scores on the Graduate Record Exam (GRE) and transcripts of previous undergraduate and graduate course works; and
Indicate in your statement of purpose your willingness to intern with a community organization involved in the local economic development of the Bronx.
Previous experience in community economic development will be considered beneficial.
Returned Peace Corps Volunteers, who have the appropriate language skills and who wish to pursue a career overseas in international humanitarian assistance, should also consider applying for an Arrupe Fellowship. Other RPCVs, who have a strong interest in public service with the US government, might also want to apply for a Public Service Assistantship. Finally, RPCVs interested in pursuing private sector careers might also want to apply for a Global Markets Assistantship.
Additional information can be obtained by contacting the IPED office at:
Fordham | IPED
The Graduate Program in International Political Economy and Development
Fordham University
Dealy Hall, Room E-517
441 E. Fordham Road
Bronx, New York 10458
USA
Tel: 718-817-4064
Fax: 718-817-4565
Email: [email protected]