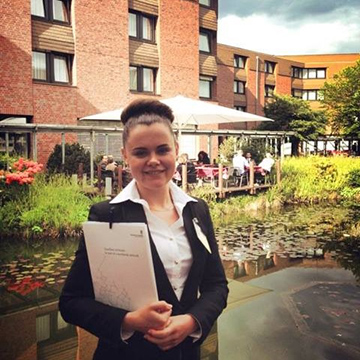 Maria Anokhina (IPED '13) was a Matteo Ricci Fellow. Shortly after graduating from IPED, she won a German Chancellor Fellowship to work on a capital research initiative in Russia.
Matteo Ricci Fellowships are designed to attract into the IPED Program highly qualified applicants currently active in international relations. To be considered for a Ricci Fellowship, applicants must be employed and nominated by a United Nations Agency, a New York-based Consulate, a Country Mission to the United Nations, American government agencies with international responsibilities or an international non-governmental organization. Ricci Fellowships can cover from 50% to 100% of tuition costs and, unlike other financial aid recipients, Ricci fellows may be part-time students.
Full-time students can complete the IPED MA degree within three semesters, while part-time students can complete the degree within two full academic years (including two summers). To be considered for a fellowship, applicants must submit a formal application including a statement of purpose, three letters of recommendation, general aptitude scores on the Graduate Record Exam (GRE) and transcripts of previous undergraduate and graduate course works. International students must also take the Test of English as a Foreign Language (TOEFL). If you are in the New York City area, Fordham's Institute of American Language and Culture can test your English language proficiency in place of TOEFL. The Institute is located at 45 Columbus Avenue, 3rd Floor in Manhattan and an appointment for English language testing can be arranged by calling them at 212-636-6353 or emailing them at [email protected].
For Ricci Fellowship applicants, one of the letters of recommendation must be a letter of nomination from their employer indicating how their training at Fordham will benefit the nominating organization.
For additional information, please contact the IPED Office at:
Fordham | IPED
The Graduate Program in International Political Economy and Development
Fordham University
Dealy Hall, Room E-517
441 E. Fordham Road
Bronx, New York 10458
USA
Tel: 718-817-4064
Fax: 718-817-4565
Email: [email protected]
The Ricci Fellowship honors the memory of the Reverend Matteo Ricci, SJ. Father Ricci was the first Jesuit to enter China in the 1600s. He became a great defender of Chinese culture and values and argued that Christianity and Confucianism were reconcilable. He was eventually appointed to the Emperor's court in Beijing and was able to introduce a number of Western innovations in mathematics and science into Chinese society. He remains a leading figure in cross-cultural understanding.