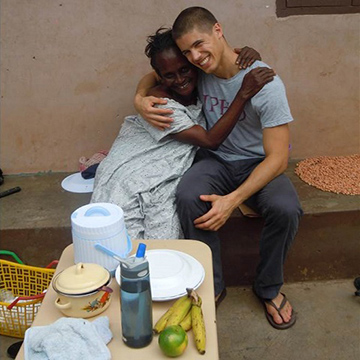 Anthony Cotton (IPED '09), RPCV Ghana, won a Presidential Management Fellowship after IPED. He now works at USAID as Deputy Director of the Development Credit Authority. In 2014, he was a Call to Service Medal Finalist, an award given to exemplary public servants.
Applicants to Fordham University's Graduate Program in International Political Economy and Development (IPED) are urged to apply for prestigious fellowships awarded by various foundations, institutions, and governments.
The IPED Program matches outside prestigious fellowships when needed with an award of full tuition remission.
A number of international students in the past have had their studies at Fordham funded by the United States through its Fulbright Program. The Organization of American States has also funded many of our students from Latin America and the Caribbean.
You may wish to visit Fastweb, a scholarship search engine that lets users search without cost a data base of over 180,000 private scholarships.
Current students in the IPED Program who wish to obtain post-graduate prestigious awards should contact Fordham's Office of Prestigious Awards (718-817-2771) for information about the Fulbright Program, Boren Awards (also known as the National Security Education Program Fellowship), Rotary International Foundation Scholarships, United States Presidential Management Fellowship Program, International Development Fellows Program, and opportunities sponsored by The Organization of American States, as well as other awards. IPED students have been very successful in winning these awards in the past.
Additional information can be obtained by contacting the IPED office at:
Fordham | IPED
The Graduate Program in International Political Economy and Development
Fordham University
Dealy Hall, Room E-517
441 E. Fordham Road
Bronx, New York 10458
USA
Tel: 718-817-4064
Fax: 718-817-4565
Email: [email protected]