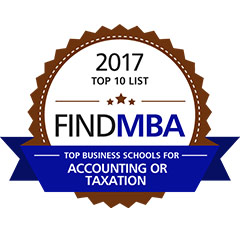 Technical expertise is indispensable, but for students of the Master of Science in Taxation program at the Gabelli School, this is only the beginning. Our program not only focuses on teaching finely honed technical skills that allow students to stay on top of the ever-changing field, it also provides the guidance, support, and lessons to allow them to seize leadership opportunities in and outside the classroom. With our unique emphasis on interpersonal and business skills, students cultivate superior language skills, creative problem-solving techniques, and a clear-eyed view of moral and social responsibility.
Highly specialized concentrations
Students generally concentrate either on Corporate Taxation or Wealth Management for High Net-Worth Individuals. Experts in both these areas are in high demand and have strong career options. In addition, students may pursue electives that suit their individualized professional needs. Through special research and presentation projects, students focus on fine-tuning soft skills that allow them to learn what it takes to emerge as a leader not in only in the classroom but a future corporate setting.
Faculty of working professionals
Classes emphasize up-to-the-minute tax law and trends; giving students experience solving real-world problems. Faculty teach from their own experiences as top professionals within New York's financial sector. Because of our intimate class environment, students receive one-on-one guidance and mentorship that can even lead to job placement after their graduation.
Connections with taxation experts
Students interact with leading tax professionals within the classroom as well as during networking and guest-speaker events; learning about developments and trends in various areas of tax law and the tax profession. Students have the opportunity to join specialized student organizations and attend guest-speaker presentations that not only allow them to gain in-depth exposure to a variety of career paths, but also to make an impression on New York's most successful executives within the fields of taxation and accounting.
Flexible scheduling
Students may choose to pursue their degree on either a part-time or full-time basis, with part-time students having the choice to have classes only one day per week. This scheduling makes the program ideal for working professional accountants, attorneys, and business executives.
Leadership intelligence
No matter the industry or role you choose, mastering leadership skills will help you achieve your professional goals. The Responsible Business Leadership Certification program™ prepares you to be an effective leader by helping you identify your leadership style, practice solving real problems, target your strengths, and build personal connections.
All undergraduate backgrounds welcome
The MS in Taxation program does not require an undergraduate accounting degree. The program enrolls working professionals and recent undergraduates from a variety of liberal arts and business backgrounds. For those students who have an undergraduate background in business, the program may also help meet the credit criteria in order to sit for the CPA while also offering an edge over your less-specialized peers.